Premier's Office
Release Date:
Tuesday, 9 May 2017 - 3:30pm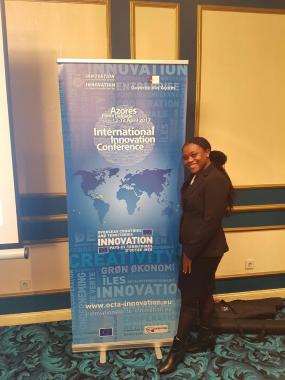 Training opportunities are now available for the Territory's entrepreneurs under the European Union's (EU) Erasmus for Young Entrepreneurs (EYE) programme.
The EYE programme, also available to other Territories, is part of the large scale Overseas Countries and Territories Association (OCTA) Innovation project.
Premier and Minister of Finance and former OCTA Chairman, Dr. the Honourable D. Orlando Smith, OBE, said that the association's members agreed to establish the Innovation project during his tenure and he is pleased to see the programme come to fruition.
The Premier added, "It is offering young entrepreneurs the opportunity to gain further experience and enhance knowledge; which will result in the successful establishment and growth of their businesses."
EYE involves two mentorship opportunities including the European Exchange Programme for Entrepreneurs and the Learning-by-Doing mentorship.
The European Exchange Programme is an "exchange of experience" where new entrepreneurs are mentored by experienced entrepreneurs in the EU between one to six months. BVI entrepreneurs cannot participate in mentorship in the United Kingdom, since the aim of the programme is to acquire business skills and connections in a Member State other than one's nationality.
Applicants will be asked to elect a preferred country of choice for their mentorship (alternatives may be offered) and indicate the preferred duration of mentorship (one to six months).
The Learning-By-Doing opportunity is an offer to a national from any OCT in Brussels, Belgium, to work with an experienced business person whose specialisation is innovation. Entrepreneurs will learn more about the importance of innovation in business, business promotion, European Union project development and communication for a period of one to six months.
Policy Analyst in the Premier's Office and OCTA Innovation Manager, Ms. Lizette O. George said the overall objective of EYE is to ensure knowledge transfer and experience in order to increase the number of successful start-ups.
She added, "There is also a focus on enhancing cross border trade in Europe. I encourage all new entrepreneurs in BVI to take advantage of this training and networking opportunity."
The programme's website further explains: "The exchange of experience…helps the new entrepreneur acquire the skills needed to run a small firm. The host benefits from fresh perspectives on his/her business and gets the opportunities to cooperate with foreign partners or learn about new markets."
Applicants must be in business for less than three years; should have the desire to travel to an EU member state; and have a business plan that details services/ products offered, analysis of market and competitors, financial plan with expenses and income over a two-year period, and a break-even analysis. Business graduates may apply provided that they have a great business idea, demonstrated by a business plan.
Participating entrepreneurs will be hosted by experienced entrepreneurs with permanent residence in one of 28 European Member States, Liechtenstein, Norway, the
Former Yugoslav Republic of Macedonia, Iceland, Montenegro, Turkey, Albania, Serbia or Israel.
Successful applicants for both mentorships (European Exchange Programme for Entrepreneurs and Learning-by-Doing) will receive €1,100 ($1,198.73) per month to cover living expenses and a return trip to BVI.
The EYE programme is partially funded by the European Commission.
The application form for the EYE programme can be found online at the following web site: http://www.erasmus-entrepreneurs.eu/. Relevant information can also be found on the Virgin Islands' Government website – www.bvi.gov.vg.
The BVI is a member of OCTA, and associated with the EU. Premier Smith served as Chairman of OCTA in 2014.
The Government of the Virgin Islands has affirmed its commitment to the development of small and medium enterprises, and is committed to strengthening international relationships, in positioning the Territory for the future.
###
Attached: Photograph of L. George, Erasmus for Young Entrepreneurs Brochure, and New Entrepreneur Registration Guide
Photo caption: Policy Analyst and OCTA Innovation Manager Ms. Lizette O. George at the International Innovation Conference in Azores, Portugal, in April, 2017. (Photo credit: Provided)
Author