Office of the Governor
Release Date:
Wednesday, 29 August 2018 - 2:10pm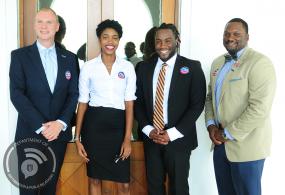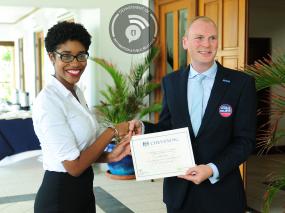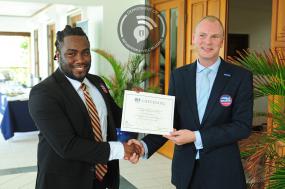 BVI scholars Ms Brittney Smith and Mr Hakim Creque are the recipients of the prestigious Chevening scholarship.
The award offers full financial support for future leaders to study for any eligible master's degree at any university in the United Kingdom.
The scholars received their award at a ceremony held on August 28 by His Excellency the Governor Augustus J. U. Jaspert and Deputy Governor David D. Archer, Jr. at an event held at the Governors' residence in the presence of family, friends and Chevening Alumni.
Governor Jaspert in congratulating the recipients on their achievement said, "Chevening is not just about the opportunity to go and study in the UK, to go and experience the UK; it is not just an opportunity to go and develop further in terms of your particular areas of study but it is actually an opportunity to really demonstrate your growth into leadership and that is what Chevening values. You are picked because you are the future leaders."
Chevening Scholarships are awarded to individuals with demonstrable leadership potential who also have strong academic backgrounds. Both Ms Smith and Mr Creque will be pursuing master's degrees in Law. They were joined by Chevening Alumni Rhonda Hodge-Smith and Marlene Harrigan.
Over the last 35 years, 50,000 outstanding professionals have had the opportunity to develop in the UK through Chevening. There are more than 1,500 scholarships on offer globally for the 2019/2020 academic year, demonstrating the UK's ongoing commitment towards developing the leaders of tomorrow.
Chevening Scholars share the best their country has to offer with those they meet in the UK, and then share the best the UK has to offer when they return home. The role that the Chevening community plays in building bridges between countries is as important now as it has ever been.'
Over the last 35 years, many of those selected for this scholarship have gone on to become respected leaders across a range of sectors. Being a part of the Chevening network instils a strong sense of pride and responsibility, and I've personally seen how this opportunity has transformed lives.'