Ministry of Education, Culture, Youth Affairs, Fisheries and Agriculture
Release Date:
Tuesday, 8 March 2016 - 5:15pm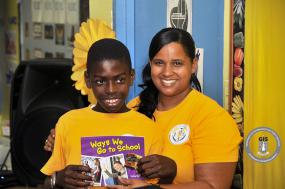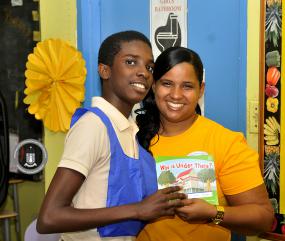 The students of Blue House at the Eslyn Henley Richiez Learning Centre are the champions of the schools' fourth annual Spelling Bee and General Knowledge Quiz Competition.
The competition was held today as part of Education Week 2016 activities and showcased students from Gold House competing against students from Blue House, providing answers to questions from seven categories. Students' cognitive and learning knowledge were addressed and tested in spelling, literacy, social studies, health science, general science, assembly, and numeracy.
The students participated in assembly tasks, and answered questions including, "What is the name of the current Governor", "Name one of the six food groups", and "What happens when salt goes in water." They also engaged in several activities including testing their spelling skills.
Student, Akeem Frank was the top scorer for Blue House with a total of 40 points, while Tahee Lloyd, the top scorer for Gold House captured 30 points. The final scores were Blue House with 80 points and Gold House 65 points.
Minister for Education and Culture, Honourable Myron V. Walwyn commended the students on their exemplary performance and applauded the teachers and Principal, Mrs. Vansittart Huggins for continuously taking on the task to include students in mainstream activities.
Honourable Walwyn said he was inspired by the students and impressed with their level of general knowledge in correctly aswering the questions. He encouraged the students to do their best and congratulated them on a job well done.
The Spelling Bee and General Knowledge Quiz is an annual event that showcases what the students attending the institution are capable of doing.
The Ministry of Education and Culture continues to support the Eslyn Henley Richiez Learning Centre and its annual Spelling Bee and General Knowledge Quiz as a movement towards inclusive education.
The Ministry of Education celebrates Education Week 2016 under the theme, Including Every Child through Inclusive Education with the subtheme, Education Includes Me.
For more information, persons should contact the Eslyn Henley Richiez Learning Centre at 468-3701 ext. 2519.
Author