Ministry of Finance
Ministry of Education, Culture, Youth Affairs and Sports
Release Date:
Thursday, 2 August 2018 - 5:43pm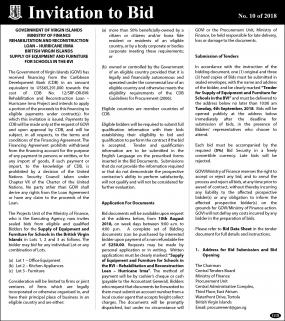 The Government of the Virgin Islands is inviting sealed bids to supply office equipment, kitchen appliances and furniture for schools in the British Virgin Islands.
The bidder may bid for any individual lot or any combination of lots for office equipment, kitchen appliances and furniture.
Consideration will be limited to firms or joint venture or firms which are legally or otherwise organised and have their principal place of business in an eligible country. The firms or joint ventures must also be more than 50% beneficially-owned by a citizen or citizens and/or bona fide resident or residents of an eligible country, or by a body corporate or bodies corporate meeting these requirements.
The firms or joint ventures may be owned or controlled by the Government of an eligible country provided that it is legally and financially autonomous and operated under the commercial law of an eligible country and otherwise meets the eligibility requirements of the CDB Guidelines for Procurement (2006).
Eligible bidders will be required to submit full qualification with their bids establishing their eligibility to bid and qualification to perform the contract if the bid is accepted.
All documents are to be submitted in the English language on the prescribed forms in the Bid Documents. Please refer to the Bid Data Sheet in the tender document for full details.
Bid documents will be available upon request from August 9, 2018, Monday through Friday between 9:00 a.m. to 4:00 p.m.
A complete set of the bidding documents can be purchased for a non‑refundable fee of $250.00 by cash or cashier's cheque made payable to the Accountant General.
Requests maybe made by personal application or in writing. Written applications must be clearly marked: "Supply of Equipment and Furniture for Schools in the BVI – Rehabilitation and Reconstruction Loan – Hurricane Irma".
Bidders who request for documents to be forwarded must submit an account number from a local courier agent that accepts freight collect charges. The documents will be promptly dispatched, but under no circumstance will the Government of the Virgin Islands or the Procurement Unit, Ministry of Finance, be held responsible for late delivery, loss or damage to these documents.
Bidders must submit one original and three hard copies of bids, in sealed envelopes, with the name and address of the bidder, and be clearly marked "Tender for Supply of Equipment and Furniture for Schools in the BVI". All bids must be delivered to the Chairman, Central Tenders Board, Ministry of Finance, Procurement Unit, Central Administrative Complex, Third Floor, East Atrium, Waterfront Drive, Tortola, British Virgin Islands no later than 10:00 am on Tuesday, September 4, 2018.
Bids will be opened publicly at the same address immediately after the deadline for their submission, in the presence of Bidders' representatives who choose to attend.
Each bid must be accompanied by the required (5%) Bid Security in a freely convertible currency. Late bids are not permitted.
The Government of the Virgin Islands accept the right to accept or reject any bid and to annul the process and reject all bids, at any time prior to the award of the contract.
Attached Photo: Advertisement with the Invitation to Bid is attached.
Author