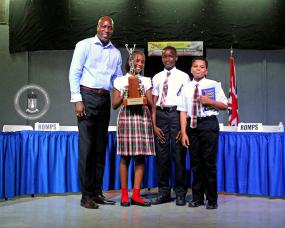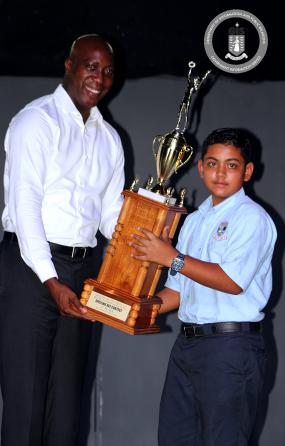 Agape Total Life Academy is the champion of the Inter-Primary Schools' National Spelling Bee competition.
Students, Aniyah Williams, Keryan Prevost and Rhyan Prince maintained a perfect score during the final competition on Monday, May 15 at the Sir Rupert Briercliffe Hall.
Students from the Bregado Flax Educational Centre-Primary Division secured second place, with Joyce Samuel Primary School placing third. Other finalists of the competition were Robinson O'Neal Memorial Primary School and the Alexandrina Maduro Primary School.
Each school was represented by two students and a reserve, and was challenged to three rounds of three words each.
Coordinator for the competition, Mrs. Heida Joyles-Selwood said that the exercise aids in the development of the Territory's students by increasing their ability to spell.
Mrs. Joyles-Selwood said, "This competition allows for our students to foster comradery and improve social interactions, all the while showcasing their skills in literacy through spelling and pronunciation."
In the Inter-Secondary Schools' round of the National Spelling Bee Champion, Ryan Ramlall of the Bregado Flax Education Centre- Secondary Division placed first.
The Elmore Stoutt High School's Khemisha Stoutt came in second followed by Jade Allison Straker. Aria Creque and Lekeisha Allen of Cedar International placed fourth and fifth respectively.
Participants in the secondary schools division competed on an individual basis, rather than by school or teams and were subjected to learn a total of 5000 words in preparation for the competition.
The Ministry of Education and Culture is committed to the advancement of the Territory's students as it endeavours to create a 'Culture of Excellence'.
Photo Captions
Winners of the Inter-Primary Schools' Spelling Bee Competition: Aniyah Williams, Keryan Prevost and Rhyan Prince of the Agape Total Life Academy accepting their trophy with the Minister for Education and Culture, Hon. Myron V. Walwyn. (Photo credit: GIS/Franklyn Skerrit)
Ryan Ramlall of the Bregado Flax Educational Centre-Secondary Division accepting his trophy as winner of the Inter-Secondary Schools' Spelling Bee Competition from the Minister for Education and Culture, Hon. Myron V. Walwyn. (Photo credit: GIS/Franklyn Skerrit)
Author
Ministry or Department Associated with this News Article: