Adina Donovan Home for the Elderly
Release Date:
Thursday, 24 November 2016 - 11:28am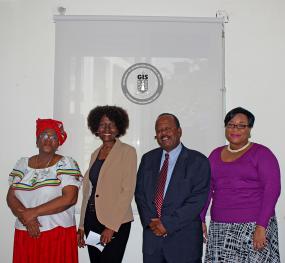 The Adina Donovan Home for the Elderly has received a donation of new window blinds to assist in the ongoing efforts to improve the overall look and environment of the Home
Mr. Vincent O'Neal of O'Neal Marketing and Associates, in a display of community spirit, agreed to partner with the Elderly Home and donated the blinds.
The Manager of Adina Donovan Home, Ms. Marilin Malone-Bass stated that the blinds not only enhance the appearance and the feel of the home, but also provides privacy. She added that the blinds are easy to maintain, and staff and residents are appreciative of the generous donation received from Mr. O'Neal.
He paid for the cost and installation of the blinds that are now in the living/reception area; the female and male dining rooms; and the lower level of the home.
The Ministry of Health and Social Development aspires to provide a caring and integrated system of health and social services that facilitates human development and improves the quality of life in the Virgin Islands
###
Note to editors: Photograph is attached.
Caption: Staff of the Adina Donovan Home along with Mr. Vincent O'Neal in front of the blinds donated on November 18, 2016. (Photo Credit: Franklyn Skerritt/GIS)
Author