Ministry of Health & Social Development
Release Date:
Friday, 25 November 2016 - 12:37pm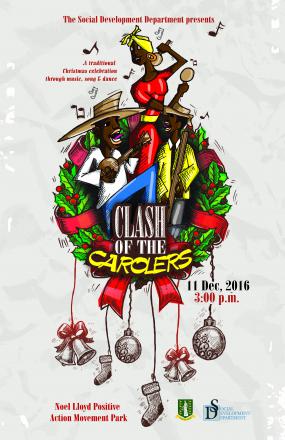 The Social Development Department is announcing its fifth annual 'Clash of the Carolers' slated for Sunday, December 11.
The clash will take place at the Noel Lloyd Positive Action Movement Park under the theme, 'Traditional Christmas Celebration through Music, Song and Dance.'
Community Development Officer within the Social Development Department, Mrs. Desiree Flanders-Harrigan said this year's focus is on the elements of caroling which would include the music, the local instruments and traditional songs. She said that in previous years the goal was to revitalise caroling and now that it has been done, the department wants to move forward and highlight parts of caroling that residents really enjoy.
Caroling is part of the Virgin Islands' tradition where groups of people go from house to house singing traditional or contemporary Christmas carols during the holiday season.
Performances in this year's Clash of the Carolers will include the Razor Blades, Elmore Stoutt High School Steel Band, BVI Heritage Dancers, Long Trench Sisters, St. Georges Primary School Choir and much more. The clash is scheduled to begin at 3:00 p.m. Persons in the community are encouraged to attend.
For more information on the Clash of the Carolers, contact Mrs. Desiree Flanders-Harrigan at the Social Development Department at 468-3650.
###
Clash of the Carolers Poster (Design Credit: DeVaugh Callwood/GIS)
Author