Ministry of Natural Resources and Labour
Release Date:
Friday, 3 February 2023 - 4:26pm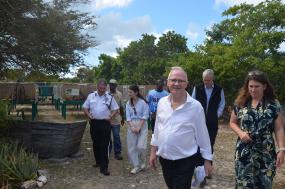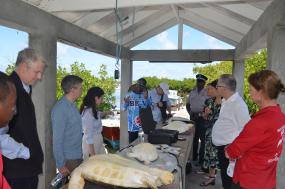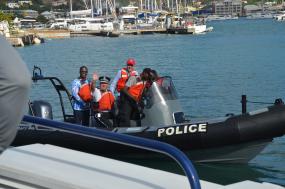 Minister for the Overseas Territories, the Rt. Hon. Lord Goldsmith, His Excellency the Governor Mr. John Rankin CMG, Minister for Natural Resources and Labour, Honourable Melvin M. Turnbull, and Commissioner of Police, Mr. Mark Collins QPM, are featured on an environmental tour that continued on Anegada on Thursday February 2. The tour commenced at the Elizabeth Ann-Harris Memorial Marine Base where the delegation was given a brief tour of the coastline of Road Town, Tortola before transferring to Anegada. Representative for the Ninth District, Honourable Vincent Wheatley joined the delegation when they visited Dr. Shannon Gore of the Association of Reef Keepers (ARK) to observe Turtle Tagging. The tour then continued to the renewable energy project site, a visit to the Claudia Creque Educational Centre to speak with students and assist in replanting trees with the Green Sprouts Eco Club, and then a historical tour of the Anegada Rock Iguana Sanctuary.
Photo Credits: P. Bridgewater
Author