Town and Country Planning Department
Release Date:
Tuesday, 10 November 2015 - 10:15am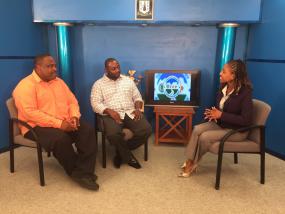 The Town and Country Planning Department will be observing World Town Planning and Geographic Information Systems Day on Wednesday, November 18 under the theme, "Discovering the World Through GIS and Planning".
The observance, jointly celebrated by the Town and Country Planning Department and the National Geographic Information Systems Committee, is designed to educate the public on the planning and building requirements of the Territory, along with various real-world applications in the use of Geographic Information Systems (GIS) that are making a difference in our society
In highlighting the milestone, Deputy Chief Planner, Mr. Dylan Penn stated, "The purpose of observing World Town Planning and GIS Day is to advance public and professional interest in physical planning and the uses of GIS technology."
He added that the event is a unique opportunity to educate the public on the importance of proper planning as a developing country.
Chief Physical Planner, Mr. Gregory Adams said the Virgin Islands has two major planning challenges, namely, lack of a comprehensive land use vision for the Territory and illegal development throughout the Virgin Islands. He further explained that as a result, planning decisions are made on an ad hoc basis, or based on traditional land use patterns that exist in the Territory.
Mr. Adams anticipates that an education campaign will help to keep the public abreast of planning requirements and alleviate most of the planning challenges faced in the Territory.
The department will launch its educational campaign over the next two weeks. The team will be featured on Spotlight on JTV Channel 55, tonight Tuesday, November 10 at 8:00 p.m. with Mr. Cromwell Smith; and on Umoja on ZBVI 780 AM on Thursday, November 12 at 8:00 p.m.
In addition, the department will be featured on "A Look at the Community" on Saturday, November 21 with Mr. Ulric Scatliffe.
The educational campaign is part of the department's overall public awareness drive to inform the population on proper planning and developing practices in accordance with the Planning Development Act 2014.
The Town and Country Planning Department remains committed to pursue a sustainable development in the Territory through the conceptualisation and preparation of inclusive development plans that achieve the best use of the Territory's land resources while encompassing the principles of the environmental and social responsibility.
Author