Ministry of Natural Resources, Labour and Immigration
Department of Labour and Workforce Development
Immigration Department
Release Date:
Friday, 30 April 2021 - 2:08pm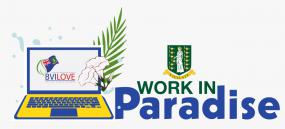 The Government of the Virgin Islands will be introducing a Work In Paradise programme to allow persons to work remotely from the shores of the Virgin Islands by acquiring an extended stay.
Premier and Minister of Finance Honourable Andrew A. Fahie said in a statement titled 'Get Ready To Move: Our Economy Is Going Into Overdrive' that the initiative is one of the many which the Government of the Virgin Islands plans to introduce to acquire additional streams of revenue to strengthen the economy in the midst of the COVID-19 pandemic.
Premier Fahie in explaining the initiative said persons who visit for the Work in Paradise programme cannot work for a company that is present in the BVI.
The Premier said, "During this time they will not be able to work for any local company or business. But they can perform their foreign-based jobs. Those persons will access hotels, villas, apartments, car rentals, taxi and tour operators, restaurants and other local services, which will be paid for with their foreign earnings, and that means we will be drawing money from outside of the Territory and injecting it into our economy."
The programme will be managed through the Immigration Department with the assistance of several other agencies including the British Virgin Islands Tourist Board and Film Commission (BVITB) who will assist in marketing the Territory as the ideal destination for remote work.
Meanwhile, Minister for Natural Resources, Labour and Immigration Honourable Vincent O. Wheatley said he is confident that the programme will prove to be a sustainable stream of income for the people of the Virgin Islands.
Honourable Wheatley said the effects of the COVID-19 pandemic have forced the world to do business in a different way to remain financially stable and that the British Virgin Islands is by no means an exception.
The minster said, "The introduction of new revenue streams are needed to propel the BVI into new arenas, thus resulting in more financial flexibility. Similar to other island nations across the Caribbean, the BVI has realised lower tourist arrivals as a result of COVID-19, and as such the introduction of a remote workers programme will encourage more arrivals to our shores."
Honourable Wheatley explained that the rationale for this collaboration would be to sell the BVI as a destination ideal for work and play from many islands. He said the Department of Labour and Workforce Development will play the vital role of managing and monitoring the persons' employment, through inspections and verification of employment related information, while the Immigration Department will lead on the project and perform the necessary checks needed to encourage a demographic best suited for the destination.
The Government of the Virgin Islands will continue to find innovative ways to strengthen the economy and increase the quality of life for the people of the Virgin Islands.
Photo 1: Work In Paradise Logo
Photo 2: Official Photo of Premier and Minister of Finance Honourable Andrew A. Fahie
Photo 3: Official Photo of Minister for Natural Resources, Labour and Immigration Honourable Vincent Wheatley
(Photo credit: GIS)
Author