Ministry of Education, Youth Affairs and Sports
Department of Youth Affairs and Sports
Release Date:
Friday, 25 March 2022 - 12:36pm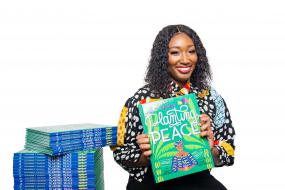 Ms. Anika Christopher a young writer, poet and publisher has been chosen to represent the BVI at the Commonwealth Games in May.
Ms. Christopher's selection by the Birmingham Commonwealth Games Organizers has made the Virgin Islands one of only five Commonwealth countries to have been included in a creative arts programme which has been commissioned by the Birmingham Commonwealth Games – Birmingham 2022.
Birmingham 2022 has commissioned a Birmingham-based consulting agency, Beatfreeks, to manage a programme that will develop and celebrate young creatives who are also organisers around the Commonwealth.
The programme will work with each Commonwealth artist and document their day-to-day work. As their project progresses, Beatfreeks will share their stories over social media and ultimately this will take part of a larger storytelling piece such as a documentary. This creative arts programme lasts from February 17 to the of May 17.
Minister for Education, Culture, Youth Affairs, Fisheries and Agriculture, Dr. the Honourable Natalio Wheatley said he was extremely pleased to hear of the selection of Ms. Anika Christopher, who has an emerging collection of poems, and will as the winning recipient, also be participating in the Queen's Baton Relay which will be held in the Virgin Islands in early May.
Meanwhile, Ms. Anika Christopher and Ms. Rochelle Smith who is Head of the Humanities, Social Sciences and Communication Department at the H. Lavity Stoutt Community College have been selected to participate in a five-day masterclass Writers and Artists' Residency in Gibraltar during the week of the of May 23 to the 27.
The classes will be led by experts from the world of children's publishing. The purpose of this Writers' and Artists' Residency is to support the next generation of children's writers and illustrators – emerging career writers and illustrators.
Honourable Wheatley further stated that the selection of Ms. Christopher and Ms. Smith is a good indication of ongoing efforts and plans to further develop our local culture and especially our literary arts.
The Minister said, "As I have said before, culture is a driver of development and a powerful source of creativity and innovation. Having our young people participate in these events will serve to propel them into further innovation and creativity to help move our country into more sustainable development. I congratulate them and wish them well."
Participants will work in a group in the mornings being guided by experts in the field and in the afternoons will have private work time to focus on their narratives. At the end of the week each participant should have created a body of work which can be developed further.