Constitutionally Established Departments
House of Assembly
Release Date:
Tuesday, 23 August 2022 - 4:27pm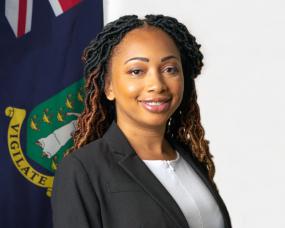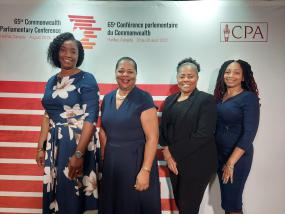 Speaker of the House of Assembly of the Virgin Islands, Mrs. Corine George-Massicote is leading a three-member delegation to the annual Commonwealth Parliamentary Conference in Halifax, Canada.
Mrs. George-Massicote is accompanied by Territorial At-Large Member and Junior Minister for Trade and Economic Development, and Agriculture and Fisheries Honourable, Shereen Flax-Charles; Clerk of the House Ms. Phyllis Evans and Senior Executive Officer Mrs. Myrna Lennard-Penn, at the 65th Parliamentary Conference being hosted by the Canadian Region of the Commonwealth Parliamentary Association (CPA).
This year's conference is being held from August 20 to 26 under the theme, "Inclusive, Accessible and Strong Parliaments: The Cornerstone of Democracy and Essential for Development."
The CPA flagship event is its Commonwealth Parliamentary Conference (CPC) and is said to be the largest gathering of over 500 parliamentarians, parliamentary staff, and decision-makers from across the Commonwealth who come together to discuss and debate critical global political issues and developments.
There will be a number of conferences and meetings during this year's conference, including the 38th Small Branches Conference; the Seventh (7th) Triennial Commonwealth Women Parliamentarian (CWP) Conference; The CPA Executive Committee Meetings; The Commonwealth Parliamentary with Disabilities Meetings; and the 56th Society of Clerks at the Table General Meeting.
The CPA's annual conference offers the opportunity for members to benefit from networking, professional development, supportive learning, and the sharing of best practices with colleagues from Commonwealth parliaments and the participation of leading international organisations.
The CPA promotes its democratic deepening objectives through annual Commonwealth Parliamentary conferences, regional conferences, Parliamentary seminars and workshops, Parliamentary symposiums, Parliamentary publications, and inter-parliamentary visits.
The Commonwealth Parliamentary Association is divided into nine commonwealth geographic regions: Africa, Asia, Australia, British Islands and Mediterranean, Canada, India, Pacific, South-East Asia, and the Caribbean, America and Atlantic.
Author