Department of Culture
Release Date:
Wednesday, 4 November 2015 - 3:15pm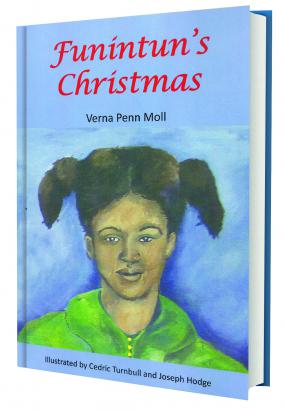 A book embracing Virgin Islands' Christmas traditions and customs of the 1950s and before, as experienced in the family of a young girl by the name of Funintun, will be launched on November 9.
The Virgin Islands Christmas Book, Funintun's Christmas is written by Verna Penn Moll and illustrated by Virgin Islands' artists Messrs. Joseph Hodge and Cedric Turnbull.
Mrs. Penn Moll said, "The book, which is presented in picture format, seeks to expand the child's vocabulary by introducing new experiences, and hopes to inspire the quest for a deeper understanding of the meaning of 'Christmas.'"
Mrs. Penn Moll has written other books for teenagers including, Johnny Cake Country published in 1984, Coals of Fire published in 1989 and This Land; A Trust from God published in 2014.
The Ministry of Education and Culture through the Department of Culture will be assisting with the book launch ceremony as part of its mandate to promote Literary Arts in the Virgin Islands.
Director of the Department of Culture, Mrs. Luce Hodge-Smith said, "Mrs. Penn Moll is one of our well renowned authors and a historian in her own right. We are pleased to be associated with her book, Funintun's Christmas and fully support and promote her efforts in preserving Virgin Islands culture and heritage."
Senior lecturer in the Education and Humanities and Social Sciences Departments of the Hamilton Lavity Stoutt Community College, Mrs. Medita Wheatley stated that at a time when the older Virgin Islander is struggling to hold on to values and traditions of yesteryear, the coming of Funintun's Christmas is timely. She said that the book brings to life the thoughts and actions which shaped the Virgin Island's character and that there are all sorts of psychological implications which might be mitigated by the use of this kind of literature.
The official book launch ceremony will take place in the Breezeway of the Central Administration Complex on Monday, November 9 at 5:00 p.m.
Persons are encouraged to attend and support the book's launch as the Department of Culture continues to effectively promote the Literary Arts by supporting local authors and developing the Virgin Islands' cultural heritage and traditions.
For more information, persons should contact the Department of Culture at 468-4373.
Author