Ministry of Natural Resources and Labour
Release Date:
Wednesday, 9 November 2022 - 4:44pm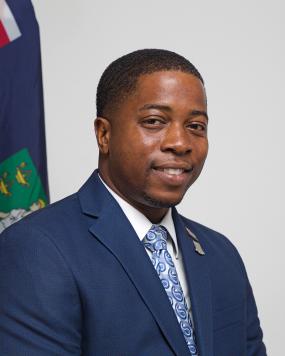 Minister for Natural Resources and Labour Honourable Melvin Turnbull is presently representing the B.V.I. at the 27th Conference of the Parties (COP27) in Sharm El-Sheikh, Egypt.
According to the United Nations, COP27 Climate is a unique opportunity for the B.V.I. to strengthen is partnership with the United Kingdom Government through the newly appointed Overseas Territories Minister The Rt. Hon. Lord Goldsmith.
Minister Turnbull said that climate change is a global crisis that frankly no territory or country can afford to ignore. He stated that the Territory is at a crucial place in history, where if action is not taken, life as we know it may never be the same. The climate change crisis aggravates social, economic and environmental threats.
"Globally, the increasing frequency and intensity of extreme weather events is impacting the lives and livelihoods of millions of people. Rising global average temperature and rapid global warming are causing alarming consequences on human beings and all other forms of life on earth. In the Virgin Islands, we have first-hand experience through increased flooding, stronger tropical weather systems, which includes the devastating Hurricanes of 2017, Irma and Maria. The universal goal of COP27 is to accelerate global climate action through emissions reduction, scaled-up adaptation efforts and enhanced flows of appropriate finance."
The minister intends to collaborate with other Overseas Territories (OTs), Small Island Developing States (SIDS) and Latin American states, to influence the global conversation about climate change solutions, particularly as it relates to the negative effects of climate change on our ecosystems and weather patterns.
In speaking about the B.V.I.'s mission for COP27, Honourable Turnbull said, "It is important to note that small island nations such as ours typically have the smallest carbon footprints and produce the least amount of pollution, but however, suffer consequences that we are far less able to mitigate than larger countries and states, whose contributions to climate change is greater. This is why our presence and participation in COP27 along with other small island states is crucial."
Honourable Turnbull is positioned to meet with Lord Goldsmith to discuss support mechanisms; as well as private stakeholders; and is a speaker at Protagonist Latin American and Caribbean Parliaments: Mobilizing Climate Finance – in support of the Parliamentary Observatory on Climate Change and Just Transition (OPCC), which the B.V.I. has a declared partnership with.
Minister Turnbull added that he looks forward to the response from the international community to the Territory's concerns, and to the technical and financial partnerships that will materialize from the BVI's participation in COP27.
The conference will focus on the implementation of the 2015 Paris Agreement, political discussions with focus on climate finance, emission targets, and the role of large states. The Conference of Parties is a meeting of governments that have signed onto the world's major climate change agreements: The United Nations Framework Convention on Climate Change, the Kyoto Protocol, or the Paris Agreement.
Author