Ministry of Health & Social Development
Ministry of Health & Social Development Units & Divisions
Release Date:
Monday, 3 January 2022 - 6:07pm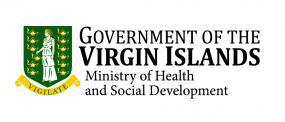 The Ministry of Health and Social Development is confirming the passing of one person on New Year's Day due to complications of COVID bringing the total number of COVID-19 related deaths to 40.
The deceased is a 71-year-old male.
Minister for Health and Social Development Honourable Carvin Malone in expressing condolences to the family and loved ones on behalf of the Government of the Virgin Islands said that he is deeply saddened by the loss of lives because of the coronavirus disease.
The Minister continues to call on the people of the Virgin Islands to adhere to established COVID-19 protocols and guidelines and avail themselves of opportunities to be vaccinated or receive their Pfizer boosters.
There are at the present time 12 patients admitted to the Dr. D. Orlando Smith Hospital with COVID and on high flow oxygen. There are no ICU admissions.
According to Dr. Georges, as of January 3rd there were 601 active reported cases of COVID with 268 new cases over the last three days. Cases appear to be milder but it is still too early to form a strong opinion on the clinical characteristics of the outbreak. Samples continue to be sent to CARPHA for genetic typing to determine if the Omicron variant is present.
"Persons are encouraged to take COVID-19 seriously. Sick persons should isolate themselves and seek to get tested by rapid antigen test or PCR. At this present time, we are recommending that persons isolate for a minimum period of 10 days and with resolution of any fever for at least 24 hours" Dr Georges added.
The CMO further stated that "all unvaccinated persons should get vaccinated and all persons who are already 3 months after their last vaccination should have a booster". "Higher levels of neutralizing antibodies in the population will both reduce spread and severity of illness at the individual and population levels" Dr. Georges said.
Please stay healthy and safe! Together we will get through this.
The Government of the Virgin Islands is committed to improving the health of the people of the Virgin Islands.
Author