Premier's Office
International Affairs Secretariat
Release Date:
Thursday, 7 July 2022 - 4:54pm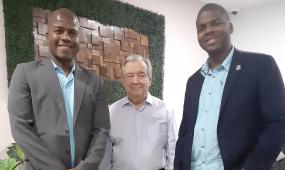 Premier and Minister of Finance Dr. the Honourable Natalio D. Wheatley is thankful to United Nations (UN) Secretary-General His Excellency Mr. Antonio Guterres for the UN's support to the Virgin Islands for COVID-19 response and sustainable development.
The Premier and Mr. Guterres met in the margins of the 43rd Meeting of the Conference of the Heads of Government of the Caribbean Community (CARICOM) in Paramaribo, Suriname from 3rd to 5th July, 2022.
According to Premier Wheatley, "It was an honour to meet UN Secretary-General Guterres and to thank him for the UN's support to the Virgin Islands as we battled COVID-19 and have continued to pursue sustainable development. I was also very pleased that he is aware of our ongoing efforts to achieve the Sustainable Development Goals (SDGs) by 2030."
In addition, Premier Wheatley held a courtesy telephone call with UN Resident Coordinator for Barbados and the Eastern Caribbean, Mr. Didier Trebucq, in which they discussed continued cooperation between the Virgin Islands and UN on a joint programme for social protection and youth economic empowerment. They also pledged to explore other areas of technical assistance where the UN can assist the Virgin Islands in achieving the SDGs.
The Premier was joined in Suriname by Special Envoy of the Premier, Mr. Benito Wheatley, and Assistant Secretary for External Affairs, Ms. Dwynel Davis.
###
Photo caption
Left to right: Special Envoy Mr. Benito Wheatley, UN Secretary-General Mr. Antonio Guterres and Premier Dr. the Honourable Natalio D. Wheatley