Premier's Office
Ministry of Communication and Works
BVI Ports Authority Ltd
Release Date:
Friday, 21 October 2022 - 3:49pm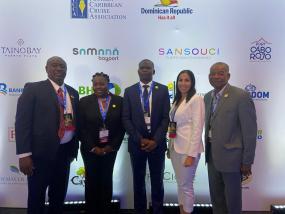 Deputy Premier and Minister for Communications and Works, Honourable Kye M. Rymer has said that he was pleased with the positive reviews on the outlook of the Cruise Tourism Industry at this year's annual Florida-Caribbean Cruise Association (FCCA) Cruise Conference.
Honourable Rymer led a team of officials to the meeting and said the outlook is also positive for the Virgin Islands as it has an opportunity to continue to deliver the amazing experiences that cruisers have come to love.
The Deputy Premier said the VI delegation was engaged in discussions that will lead to certified transportation training for the industry.
He said, "During the Government Heads meetings, discussions were held by several committees including the Proposing Committee which looked at how to get products aboard ships and integrate logistics with inventory. The Employment Committee discussed the legislation needed to enable Caribbean nationals with the opportunity to work on ships while the Shore Excursion Committee expressed the need for the Private Sectors involvement."
Honourable Rymer added that his delegation discussed the involvement of a task Force to improve on cruise tourism, employment opportunities for Caribbean nationals aboard cruise lines, sourcing supply chains and analysing the supply chain for product consistency.
The cruise executives present at the conference included: Aida Cruises; Carnival Corporation & PLC; Celebrity Cruises; Disney Cruise Line; Royal Caribbean Group; Royal Caribbean International, and Windstar Cruises.
The Florida-Caribbean Cruise Association (FCCA) was created in 1972 and is a not-for-profit trade organisation composed of 23 member lines operating nearly 200 vessels in Floridian, Caribbean and Latin American waters. The association's mandate is to provide a forum for discussion on cruise operations, tourism development, ports, tour operations, safety, security and other cruise industry issues.
The association seeks to build cooperative relationships with its partner destinations and develop productive bilateral partnerships with every sector by fostering an understanding of the cruise industry and its operating practices.
The Governments represented at this year's conference were the Bahamas; the Virgin Islands; Cayman Islands; Curacao; Dominican Republic; El Salvador; Guatemala; Honduras; Jamaica; Mexico; Puerto Rico; St. Kitts and Nevis; Saint Maarten and United States Virgin Islands.
Author