Ministry of Communications and Works
Release Date:
Tuesday, 10 February 2015 - 5:00pm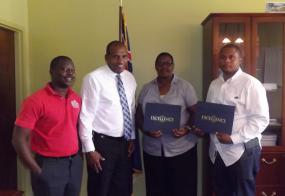 In an effort to assist with enhancing the tourism product, the BVI Taxi and Livery Commission are partnering with the Aquila Group, to conduct an international certification programme designed to train tour guides in the cruise industry.
This online programme titled 'Tour Guide Excellence Training' spans six lessons including Overview of Cruise; Hospitality and Service Excellence; Research and Field Skills; Presentation and Storytelling; Preparation and Processes; and Difficult Situations and Risk Management.
So far two persons have received certifications namely Mrs. Dorcas Fahie and Mr. Darrel Fahie.
According to the Minister for Communications and Works Honourable Mark Vanterpool, "It is important to have skilled and well trained tour operators within the transportation industry to help raise the level of service offered to residents."
"Additionally, trained tour guides are a crucial factor in the guest experience and an added benefit to our tourism product," he said.
Aquila's Center for Cruise Excellence offers training programmes designed to help tour operators and cruise destinations around the world achieve excellence. Aquila works with partners such as the Florida Caribbean Cruise Association (FCCA) the Cruise lines International Association (CLIA), and Sustainable Travel International (STI).
This initiative is part of a continued effort by the Ministry of Communications and Works to improve the level of service excellence offered to transportation professionals in the Virgin Islands.
Author