Ministry of Health & Social Development
Release Date:
Tuesday, 12 July 2016 - 4:02pm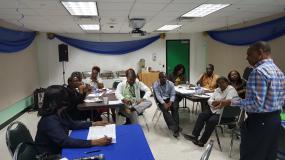 The Ministry of Health and Social Development is moving towards developing a National Formulary following a workshop last week.
A formulary is a manual that lists the medications that address the majority of pharmaceutical needs of the people of a country.
Doctors, pharmacists and nurses of both the public and private sectors attended the workshop, which was designed to build Territorial capacity in formulary development.
Chief of Drugs and Pharmaceutical Services and Co-facilitator, Mrs. Gracia Wheatley Smith said that the workshop featured topics such as how to manage a formulary, criteria for selecting medicines to be placed on a formulary, and standard treatment guidelines for common disease conditions.
Mrs. Wheatley Smith said, "Additional skills such as how to critically appraise medicine information, promoting rational medicine use through medicine utilisation review and prequalifying suppliers were shared with the participants."
Participants also gained knowledge on how to monitor and evaluate an independent pharmacy or one attached to a hospital.
The Chief stated that an action plan for the development of the Virgin Islands Formulary was also developed and the participants are looking forward to the development and implementation of the formulary. "Having a formulary in practice can be very beneficial in standardising treatments and ensuring the constant availability of essential medicines," she added.
Chief Pharmacist of Dominica, Ms. Dolores St. Jean also participated in the workshop as that country is also in the process of developing its national formulary.
The workshop was conducted in collaboration with the Organisation of Eastern Caribbean States Pharmaceutical Procurement Service. Head of this service, Mr. Francis Burnett., co-facilitated the workshop.
The Ministry of Health and Social Development is committed to improving the health of the people of the Virgin Islands.
Author