Ministry of Education, Culture, Youth Affairs, Fisheries and Agriculture
Department of Culture
Release Date:
Thursday, 24 March 2016 - 5:45pm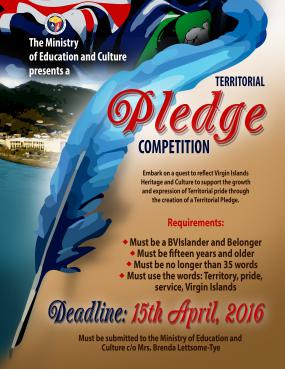 The 'Territorial Pledge' competition is on, and the Government of the Virgin Islands will be launching a promotional video in support of this important initiative.
The pledge is an oath of allegiance to the Territory of the Virgin Islands and will be recited in all primary and secondary schools in the Territory and at other formal functions as the Government continues to work on building national pride among the youth and population in general.
Chairman for the Ad-Hoc Committee, Honourable Delores Christopher said it is hoped that the competition, which has been launched, gets wide public support as the Virgin Islands continues to define who they are as a people.
Honourable Christopher said, "The territorial song, dress, sign and symbols were established in 2012 and in order to further develop territorial pride, the Territorial Pledge competition has been established. I encourage as many eligible persons as possible to participate in the competition."
Secretary for the Ad-Hoc Committee, Mrs. Brenda Lettsome-Tye said the promotional video will serve to infuse territorial pride through a selection of Virgin Islanders attired in territorial wear showcasing national unity.
Mrs. Lettsome-Tye added, "The committee is currently working on launching a territorial promotional video to endorse the Territorial Pledge competition. The video will serve to develop a greater sense of appreciation through the identification of Virgin Islanders speaking and showcasing Virgin Islands unity, identity and culture."
The Territorial Pledge competition was launched as part of the Ministry of Education and Culture's mission to enrich the lives of all residents of these Virgin Islands.
Minister, the Honourable Myron V. Walwyn announced on December 21, 2015 during the sitting of the House of Assembly, that the Virgin Islands will be moving toward instituting a Territorial Pledge to build a nation of citizens and residents who understand and have a deep reverence of Virgin Islands heritage.
The competition is open to all Virgin Islanders and Belongers 15 years and older. The pledge must consist of no more than 35 words and must include the words: pride, service, Territory, and Virgin Islands.
All entries for the Territorial Pledge competition must be sealed and submitted to the Ministry of Education and Culture in care of Mrs. Brenda Lettsome-Tye on or before Friday, April 15.
Fifth District Representative, Honourable Delores Christopher chairs the Ad-Hoc Committee. Committee members include Mrs. Eileene L. Parsons, Mrs. Brenda Lettsome-Tye, Mr. Theodore James, and Ms. Bria Smith.
For more information, persons should contact the Ministry of Education and Culture at 468-3701 ext. 4949.
Author