Survey Department
Land and Survey Department
Release Date:
Monday, 9 November 2015 - 5:00pm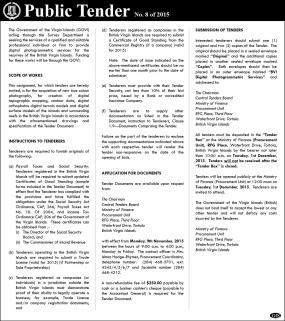 The Government of the Virgin Islands, through the Survey Department, is inviting tenders from qualified and suitable professionals or firms to provide digital photogrammetric services or aerial photography for the survey of the Territory.
The Government is desirous of acquiring new true colour photography for the creation of digital topographic mapping, contour data, digital orthophotos digital terrain models and digital surface models of the islands and surrounding reefs in the Territory.
Director of Communications Mrs. Arliene T. Penn said, "We remain committed to maintaining modern and updated Geographic Information Systems (GIS) to assist with achieving effective planning and development throughout the Territory. As such, we are inviting tenderers to submit their proposals and partner with Government to strengthen this digital database."
She added that the digital aerial imagery would provide a tremendous advantage for the Territory as it would facilitate further development and integration of GIS applications.
Tenderers must submit a valid trade license; certificates of good standing from the Director of the Social Security Board, the Commissioner of Inland Revenue and the Commercial Registry.
Tender documents are available upon request from the Ministry of Finance, Procurement Unit, Rita Frett Georges (RFG) Place, Third Floor, Waterfront Drive, Tortola British Virgin Islands from Monday, November 9, between the hours of 9:00 a.m. and 4:00 p.m.
Upon collection of the tender document, a non-refundable $250 fee must be paid by cash or bank cashier's cheque made payable to the Accountant General.
The deadline for the submission of tenders is Tuesday, December 1, no later than 10:00 a.m. Tenders will not be received after the tender box is closed. Tenders will be publicly opened at the Ministry of Finance, Procurement Unit, located in the Rita Frett Georges Place, Third Floor beginning at noon on Tuesday, December 1. All tenderers are invited to attend.
For more information, interested persons can telephone the Procurement Coordinator Mrs. Ishma Rhymer at the Procurement Unit at 468-3701 ext. 4243 or 4244.
Author