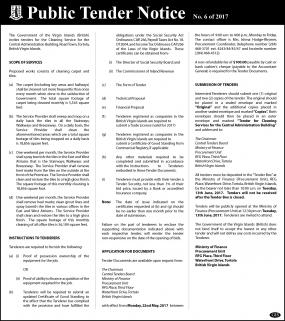 The Government of the Virgin Islands is inviting tenders to provide cleaning services at the Central Administration Complex.
Director of Communications, Mrs. Arliene T. Penn said the proposed works consist of cleaning the carpet and tiles on a daily basis and deep cleaning on a monthly basis.
Mrs. Penn said tenderers are required to have proof of possession ownership of the equipment for the job or proof of ability to finance acquisition of the equipment for the job.
Tenderers will be required to submit an updated Certificate of Good Standing to the effect that the tenderer has complied with the provision and have fulfilled the obligations under the Social Security Act Ordinance CAP 266, Payroll Taxes Act No. 18 of 2004 and the Income Tax Ordinance CAP 206 of the Laws of the Virgin Islands.
Additionally documents include the form of Tender, technical proposal, financial proposal, must have a valid trade licence and a tender security.
Tender documents are available upon request from the Procurement Unit located at the RFG Place, Third Floor, Waterfront Drive. Tender documents are available from Monday, May 22.
A non-refundable fee of $100.00 payable by cash or bank cashier's chequeis required for the tender documents. Interested tenderers should submit one original and two copies of the tender and all tenders must be deposited in the tender box at the Procurement Unit no later than 10:00 a.m. on Tuesday, June 13. Tenders will be publicly opened at the Procurement Unit on Tuesday, June 13 at noon and all tenderers are invited to attend.
Interested persons can contact the Procurement Coordinator, Mrs. Ishma Rhymer at the Procurement Unit at (284) 468-4243.
Photo - Tender Notice attached
Author
Ministry or Department Associated with this News Article: