Department of Disaster Management
Release Date:
Friday, 13 July 2018 - 4:26pm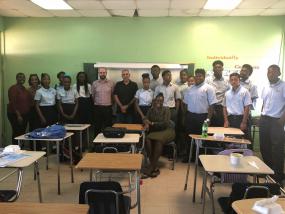 Students on Virgin Gorda received educational insight on how to protect themselves and their property in the event of flooding following presentations by the team of the Road Town Hydrology Study on July 11.
The students of the Robinson O'Neal Primary and Bregado Flax Education Center (Primary and Secondary) were informed on the purpose of the study and the roles the Department of Disaster Management (DDM) play in flood risk management throughout the Territory. They were also exposed to a demonstration of the flood models and applications using the Geographic Information Systems (GIS) software.
Consultant and Community Liasion Officer Mr. Mohammad Tarrabay said, "It was very gratifying visiting the schools on Virgin Gorda. The students were extremely receptive. We were impressed with how community-minded many of them are. They recognised that we can all play a part in making our territory more resistant to flooding."
Mr. Tarrabay explained that the project is not only focused on the engineering aspect but that it also involves spreading awareness and public outreach so that communities would be able to mitigate against flooding in neighborhoods.
The team was comprised of representatives from the Department of Disaster Management, the Ministry of Communication and Works and the Road Town Hydrology Study's Project.
The visit to the schools was a continuation of the project's Flood Protection Awareness Campaign which began in May. The presentation in Virgin Gorda was the final in a series to schools across the Territory.
The Flood Awareness Campaign was created in efforts to bring public awareness to the Territory and to gather information from members of the community. Through the project, various public awareness initiatives were undertaken, including community meetings, business "drop-ins", school visits, face to face consultations, DDM's FOCUS programme and varied forms of social media strategies including surveys.
As part of this study, the Government of the Virgin Islands has taken a holistic approach in the rehabilitation and reconstruction of the Territories infrastructure, a critical component of which is to understand the nature of flooding in Road Town and to analyze and develop ways to mitigate the risks.
So far, the following deliverables have been met: Inception and Feasibility Report which includes the catchment characterisation and flood risk analysis, flood mapping and hazard assessment, and assessment of existing drainage infrastructure; Drainage Plan and Policy including drainage options appraisal, flood risk management policy, flood emergency response plan, and community preparedness material.
The Department and Disaster Management in collaboration with key stakeholder departments are committed in ensuring that the Territory is better informed on these initiatives.
Author