Premier's Office
Release Date:
Friday, 21 June 2019 - 8:04am
STATEMENT BY PREMIER AND MINISTER OF FINANCE
HONOURABLE ANDREW A. FAHIE
ON CONGRATULATING SERVICES SECTORS ON PERFORMANCE DURING CONCERT WEEKEND
Thursday, 20th June, 2019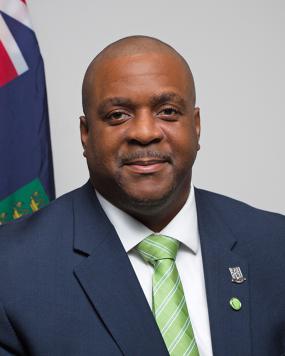 Fellow Virgin Islanders,
I want to take this opportunity to congratulate the members of our public and private services sectors for their stellar performance over the last weekend during which several international music performers visited the Territory for two concert performances; one being Reggae legend Buju Banton's Long Walk to Freedom world tour and the other Soca Wee.
From preliminary reports, the Territory was host to well over 8,000 visitors and these two events were relatively incident-free. From all indications, visitors were able to enter the Territory with ease, they enjoyed a high standard of hospitability, they were kept safe and they left our shores satisfied.
This performance will go a long way in branding the British Virgin Islands as a preferred location for international concerts in the region since we have demonstrated the capacity to host such events. Indeed, the entertainment tourism market is one we can now pursue with confidence.
This success story is only possible because all of the partners in the BVI's tourism industry and supporting agencies performed their respective roles with excellence in mind.
The Royal Virgin Islands Police Force, Fire Services and Office of Disaster Management, ensured the safety of all visitors and participants at the concerts. Airlines, ferry operators and their staff, and taxi drivers worked extremely hard to ensure that persons were able to obtain transportation to and from the events.
Customs and Immigration Officers, I am advised, performed their duties very effectively while ensuring a pleasant experience for arriving guests. Hoteliers, their staff and bed and breakfast operators provided high-quality service to our guests and ensured their comfort during their stay. Restaurateurs, bar operators and food vendors also contributed to making memorable BVI experiences for our visitors, as did so many others who are too numerous to mention.
These concerts put the BVI on show to the world and tested our abilities and our capabilities. It goes without saying that we have met and surpassed expectations.
If it is anything that the hosting of last weekend's events has taught us as a Territory is that we have the ability to achieve great things, especially when we work together. In unity, there is strength.
We must feel proud of our performance and our achievement. Indeed, I am proud of how our people handled ourselves, and I look forward to our next great achievement in the hospitality and entertainment industry.
God bless our British Virgin Islands.
I thank you.