Premier's Office
Release Date:
Friday, 24 December 2021 - 10:28pm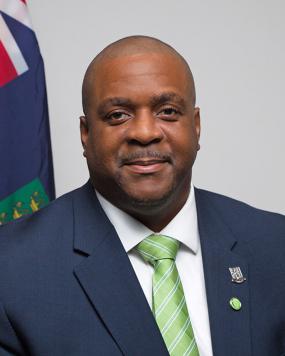 STATEMENT BY PREMIER AND MINISTER OF FINANCE
HONOURABLE ANDREW A. FAHIE
CULTURAL CHRISTMAS CONTINUES DESPITE PREMIER TESTING POSITIVE FOR COVID-19
24 December, 2021
I once again wish everyone Happy Holidays and GOD'S BLESSINGS.
I must also inform that during the early part of this afternoon I was informed by the Health Officials for the need to have me tested as a result of me being in close contact with someone who had recently tested positive for COVID-19. As a result, late this afternoon, 24 December, 2021, I was tested for COVID-19 and the results returned as positive.
The testing was consistent with the established protocols where our Deputy Premier and Minister for Education, Culture, Youth Affairs, Fisheries and Agriculture, Dr. the Honourable Natalio D. Wheatley, recently tested positive for COVID-19 and all his listed recent contacts – of which I was one – required to also be tested.
Following the Health protocols and in an effort to assist with contact tracing, all my recent contacts were reported to the Health Officials.
My entire family was also tested but all results received thus far are negative.
Due to the aforementioned results, I am following the instructions of the Health Professionals to isolate for ten days. I have also been advised that due to being fully vaccinated, and having recently taken the booster shot, this has contributed to my immune system being in the best possible position to "fight off" the virus and its possible negative effects thereby giving me the best chance for a full and fast recovery.
I want the public, from Districts One to Nine, to know that I am in good spirits. I am feeling as normal as can be, and I continue to perform my duties and responsibilities as Premier remotely.
I am pleased to report also that the Deputy Premier is also feeling strong and is also expected to have a full recovery. He also continues to perform the duties of his office remotely.
To all this I say to GOD alone be all the GLORY!
At this time I also want to ask for Prayers for all of our brothers and sisters in the Virgin Islands who have also recently tested positive. The current numbers show that just over 140 persons in the Virgin Islands are now on the active positive list. Let's Pray to GOD for a speedy recovery for each of us as the Deputy Premier and I are part of those numbers.
To the families who have to spend this Holiday Season as their first Holiday Season without their loved ones, especially those lives that were loss due to COVID-19, we ask GOD to be their refuge and strength during this difficult period. May the Peace of GOD be with them and us all.
These recent incidents highlight what we have been saying all along, which is that being fully vaccinated does not guarantee that you will not contract COVID-19 but it gives you the best fighting chance to "fight off" the virus and recover so that you can resume a normal life.
Therefore, although your Government has not made vaccination against COVID-19 mandatory, we strongly recommend that everyone be vaccinated and also take the booster shot.
We must remember that COVID-19 is fluid, and neither the Virgin Islands nor any other country in the world is out of the woods. Let us therefore increase our vigilance and adherence to mask wearing, social distancing, and hand hygiene.
I am encouraging everyone, in the words of the Chief Medical Officer Dr. Ronald Georges, if you have been in contact with someone who has tested positive for COVID-19, I am pleading with you to call the medical hotline at 852-7650, that is 852-7650. We must be vigilant for symptoms and strict about staying at home to limit the spread of the infection.
If you think you have contracted COVID or are exhibiting the symptoms of COVID please immediately self-isolate and seek to be tested by either a PCR or rapid COVID test. You can access PCR testing at the Dr. D Orlando Smith Hospital Tent by registering at https://althea.bvi.care and by calling the Medical Hotline at 852 7650 if you have any symptoms of COVID. Alternatively, private medical establishments also provide PCR testing, and rapid antigen type tests. The PCR test remains the Gold Standard for diagnosis.
Let us continue to practice all the Health protocols because COVID-19 is no respecter of persons or position.
Persons are reminded to continue to be vigilant and abide by the established public health measures and:
1. Limit your exposure to persons outside of your household
2. Adhere to the public health protocols
· Do wear your mask at all times when within 6 feet of persons
· Wash your hands regularly or use hand sanitizers
· Maintain a distance of at least 6 feet from persons outside your household
3. If you are sick isolate and get tested as soon as possible
4. If you are positive stay away from others for at least 10 full days and abide by the terms of your quarantine order
5. If your condition worsens do seek medical attention early.
6. Get vaccinated with either your first or second dose and if you are three months after your last dose and are eligible get your booster
Vaccination and vaccine booster have been proved to reduce your chance of hospitalisation and severe disease. With GOD'S HELP, together we will defeat this dreaded virus.
I also wish to remind you that tomorrow, Christmas Day, your Premier and Minister of Finance, working in collaboration with your four Territorial Representatives and each District Representative, invite families to enjoy our culture in music and song at the following locations on December 25, 2021 from 11:00 a.m. to 5:00 p.m, as we celebrate a Virgin Islands Cultural Christmas with a Twist through our food and music. This is being held at locations across all the Nine Districts including the Sister Islands as follows:
District 1:
Benjamin A. Romney Park, West End
The Bandstand, Recreation Ground, Cappoon's Bay
Sellie's BBQ Pit, Carrot Bay
District 2:
De Wedding Restaurant, Cane Garden Bay
Pinky's Delight, Jost Van Dyke
District 3:
Lot across from The Boys Gas Station, Sea Cows Bay
Billy's Superette, Palestina
District 4 and 5:
Bandstand, Road Town, Tortola
Basketball Court, Lower Estate
District 6:
Adjacent Jamie's Car Wash, Baugher's Bay
Fisherman's Wharf, Baugher's Bay
Basketball Court, Purcell Estate
Jerome Fahie Bar, Bellevue
District 7:
Gram's Place, Fat Hog's Bay
The Stickit, Long Look
Duck and Dive, Brandywine Bay
District 8:
The Watch House, Hope Hill
Harbour View Restaurant, East End
District 9:
North Sound Basketball Court, Virgin Gorda
Grandma's Kitchen, Valley, Virgin Gorda
Mermaids Dockside, Valley, Virgin Gorda
Theodolph Faulkner Admin Building, Anegada
Love, peace, goodwill towards all men and women, caring, sharing, family and friendship are all themes that characterize Christmas. This year, let us make an extra effort to reach out to someone who may need a shoulder to lean on – even if it is just to say a comforting word.
May the light and love of Christmas touch your life and those around you.
Have a Happy and Holy Christmas. And be as safe as is possible.
Author