Ministry of Health & Social Development
Release Date:
Tuesday, 10 November 2020 - 8:30pm
STATEMENT BY MINISTER OF HEALTH AND SOCIAL DEVELOPMENT
HONOURABLE CARVIN MALONE
Tuesday 10th November 2020
COVID-19 UPDATE – Re-entry Protocol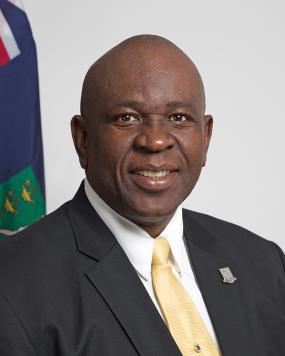 I extend greeting to everyone. Before I address the Quarantine Protocols Related to Health; as Minister with responsibility for Health and Social Development with the overall lead for tackling the dynamics of the COVID-19 pandemic, I am pleased to provide you with the latest status report on our Territory's situation.
As at October 7, 2020, here in the British Virgin Islands, after testing of some six thousand four hundred and thirty-one (6,431) individuals at the Dr. D. Orlando Smith Hospital there is currently no active cases reported or confirmed. Of the 72 persons who have tested positive for COVID-19 seventy-one persons have fully recovered and the Territory was sad to report that one person died.
This accomplishment is no small feat. It is a direct result of the collective efforts and investments of your Government; the efforts of our public and community health teams and; the efforts of the entire BVI community. It is because of your determination to continually cooperate with the public health measures and restrictions instituted for all our protection that, since this virus was declared as a GLOBAL PANDEMIC, we are where we are today.
We cannot become complacent. We are not out of the woods. We cannot take the fact that we have no positive cases on record to-date, as an indication that we are 'COVID-19 free'.
COVID-19 does not walk our streets with a label or a tag. We have no idea who may be carriers of the disease, as the evidence has shown, 37 percent of our positive cases reported no symptoms. So let us take nothing for granted.
Throughout the region; as is throughout the world – a number of Island Nations and first world countries have attempted to re-open but were compelled to close and to implement new lock-down protocols ahead of other measures and vaccines that may be adopted to curb the detrimental effects of this virus.
I wish to encourage every person under the sound of my voice to remain vigilant, and cooperate with the members of the Health team and the Social Distancing Task Force as they work assiduously to ensure that we remain as safe as possible, under the present circumstances.
Now to the matter at hand. In recent weeks persons have been paying keen attention to the reopening process which involves the rebooting of the tourism sector under the leadership and direction of the Premier's Office.
While there has been quite a stir regarding the parameters which would guide this process, the opportunity was taken to revisit the arrival, testing, monitoring, quarantine and isolation protocols for travellers and residents in preparation for our wider reopening. At a meeting of Cabinet held on November 6, 2020:
Cabinet decided that Phase III Testing Protocol, as amended, which requires certified RT-PCR testing at various intervals and sites for all arriving travellers in order to manage the risk of COVID-19 transmission while reducing quarantine requirements during the incubation period for the disease as follows:
testing and quarantine protocols apply to all travellers inclusive of Tourists, Residents, Belongers and Work Permit holders;
Cabinet decided that all travellers will be required to download the approved app and must be issued a Travel Certificate;
Cabinet decided that the following tests will be required:
a Certified RT-PCR COVID-19 negative test within five days prior to arrival for all travellers from low risk countries; and within three days prior to arrival for all travellers from medium and high risks countries.
a test on arrival, which if negative, allows controlled movement within the confines of an approved property; and
a test after 4 complete days of quarantine, which if negative, allows movement within the Territory.
Cabinet decided that a traveller who tests positive before arrival will not be allowed to enter the Virgin Islands;
Cabinet decided that a positive test at any stage upon arrival will require fourteen (14) days quarantine; and for the avoidance of doubt
To allow a mandatory quarantine period of four (4) days within the confines of an approved property or vessel.
Cabinet further decided that the Protocol for Vessel Arrivals will require certified RT-PCR testing and provide for quarantine accommodations aboard vessels as well as restricted movement within Territorial waters as follows:
Four (4) days quarantine will be undertaken on the vessels at mooring sites to be approved by the Minister for Health and Social Development in consultation with the Minister for Natural Resources, Labour and Immigration;
Cabinet decided that vessels will be able to move within territorial waters during the quarantine period but they may only moor at approved sites as approved by the Minister for Health and Social Development in consultation with the Minister for Natural Resources, Labour and Immigration;
That Mega yachts will be approved entry in accordance with established marine protocols, except otherwise as approved by the Minister for Health and Social Development.
Recognising that there would be some exemptions from quarantine requirements for specific groups, Cabinet also agreed that:
The COVID-19: Quarantine Exemption Protocols, which outlines risk mitigation measures for persons recommended for exemption from quarantine requirements such as aviation, maritime and medical personnel, diplomats and other essential personnel including the judiciary, persons employed in service of the Commonwealth and inter-regional Caribbean Organisations and exceptional essential persons as approved by the Minister for Health and Social Development and the Governor.
When entering the Virgin Islands, while these groups are exempt from mandatory quarantine, they must register on the BVI GatewayTravel Application, practice self-isolation, and adhere to the various testing requirements outlined in the Quarantine Exemption Protocols.
Finally, Cabinet decided to instruct the Attorney General's Chambers to amend the Public Health (COVID-19 Control and Suppression Measures) (No. 9) Order, 2020 to:
increase the maximum number of persons for all gatherings to 100 persons;
increase the maximum number of persons in section 4(2) (that is: a faith-based service; a graduation ceremony; a wedding ceremony or a funeral) to two hundred (200 persons);
change the maximum number of persons in section 4(3) at an outdoor event, to two hundred persons (200 persons); and
decided to give allowance for the Minister for Health and Social Development to approve gatherings larger than specified above on application to the Ministry
No doubt, we see world-wide how the COVID-19 pandemic is a rapidly changing situation. Some first world countries are closing down their borders while we are making considerable attempts to open ours.
In the balance of lives and livelihoods we are compelled to open our borders and like all other jurisdictions we must appreciate that we will have to coexist with this virus. It is therefore incumbent upon us to take seriously our responsibility to hold ourselves and each other accountable for the safety and protection of us all.
Remember to contact the Medical Hotline at 852-7650 if you think you are experiencing any symptoms related to COVID-19. Symptoms include – fever, cough, headaches, fatigue, loss of taste or smell, sore throat, muscle aches or difficulty breathing.
Let us be our brother's keeper! Let us resolve and commit ourselves to wearing our masks; washing our hands and keeping a safe distance while incorporating a Complete Health Improvement Programme with healthy diets and a strong regiment of regular exercise. Let us take care of ourselves and each other as we live and work in this COVID-19 era!
I thank you for your attention and pray for our collective safety during this time. May GOD Bless each of us. May GOD Bless our beautiful Virgin Islands and shower us with BVILOVE.