Ministry of Education, Culture, Youth Affairs and Sports
Release Date:
Wednesday, 16 November 2022 - 1:32pm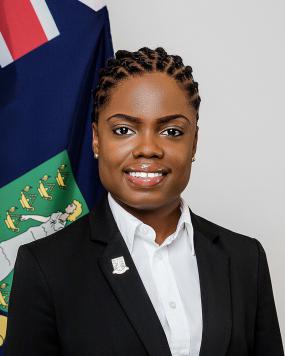 STATEMENT BY HONOURABLE SHARIE B. DE CASTRO
MINISTER FOR EDUCATION, YOUTH AFFAIRS & SPORTS
EIGHT SITTING OF THE FOURTH SESSION OF THE FOURTH HOUSE OF ASSEMBLY OF THE VIRGIN ISLANDS
TUESDAY, 15TH NOVEMBER, 2022
UPDATE ON WORKS AT THE ENIS ADAMS AND FRANCIS LETTSOME PRIMARY SCHOOLS TO HOUSE STUDENTS OF THE ALTHEA SCATLIFFE PRIMARY SCHOOL
Madam Speaker, you will recall that with the closure of the Althea Scatliffe Primary School on June 16th, 2022, the Ministry of Education, Youth Affairs and Sports moved with haste to find the best solution to house the students of that school to enable education continuity. It was proposed and announced by the Ministry that the best solution was to use the spaces available at the Enis Adams Primary School and the Francis Lettsome Primary School to house the students after the spaces have been rehabilitated and retrofitted.
Madam Speaker, I take this opportunity to recognized Unite BVI, who was gracious to provide the funding necessary for the rehabilitation and retrofitting of the two schools and work started in earnest to be completed in as short a time as possible.
Madam Speaker, today I am happy to give an update on the progress of these two schools. The concrete slab in the central courtyard at the Francis Lettsome Primary School has now been installed which gives the school a better place to meet for assembly and other gatherings. New air-conditioning units have been installed in several rooms. The replacement external doors are being manufactured and we are awaiting a delivery date. The contractor is also reviewing the logistics of replacing the damaged windows.
Madam Speaker, at the Enis Adams Primary School, finishing and electrical works in all classrooms and restrooms on the top floor were successfully completed enabling all students to be housed under one roof effective yesterday, Monday 14th November, 2022. Madam Speaker, I would like to take this opportunity to thank Unite BVI for their financial support in this endeavor that has benefited our students and teachers greatly. I also express gratitude to the project Manager, BCQS and I also acknowledge the Contractor at the Enis Adams Primary School Mister Deon Stoutt for his remarkable dedication to this project which was completed one month before the projected timeline.
Madam Speaker, yesterday during the assembly at the Enis Adams Primary School, a ceremony was held to acknowledge the completion of the top floor and the reintegration of students into full day learning in their individual classrooms at this institution of learning. Madam Speaker, ensuring that our students and teachers are housed in a safe and healthy environment is a priority of the Ministry of Education, Youth Affairs and Sports. The Ministry will do everything possible to ensure that this is true for all schools in the territory.
Thank you Madam Speaker.