Ministry of Health & Social Development
Release Date:
Sunday, 28 June 2020 - 9:24pm
STATEMENT BY DEPUTY PREMIER
AND MINISTER FOR HEALTH AND SOCIAL DEVELOPMENT
HONOURABLE CARVIN MALONE
28th JUNE 2020
TWO BVI NATIONALS TEST NEGATIVE FOR COVID-19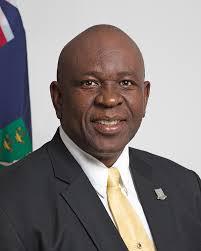 I am here this evening to bring another progress report on the Territory's response to the COVID-19 pandemic.
The phased and restricted reopening of the borders in the Virgin Islands continues where, except as authorised otherwise, only nationals, belongers, holders of permanent residence, and naturalised citizens of the Virgin Islands are being allowed entry into the Territory through the Terrence B. Lettsome International Airport, at this time.
The Ministry of Health is advising the public that a party of two nationals, shortly after their arrival on returning to the Territory, were tested for the virus that causes COVID-19. I am pleased to report that both results were returned as NEGATIVE.
The decision to conduct the test at the beginning of the 14 day quarantine period resulted from reports reaching the Ministry of Health that the two travelers had reportedly been exposed to the COVID-19 virus while overseas.
A PCR testing at the Dr. D. Orlando Smith laboratory was carried out upon arrival as a precautionary measure to verify whether any of the two persons under investigation were currently carrying the virus, although neither of them had exhibited symptoms of the disease.
The re-entry protocol also requires both travelers to be retested at the end of a 14-day quarantine period before being approved to exit their quarantine facility.
The established Port Health procedures for the handling of suspected cases were followed at the T. B. Lettsome International Airport upon arrival of the flight that carried both passengers, in compliance with International Health Regulations.
Our airport is open. Our people are coming home after a long wait. It is likely that we may have people who have been exposed to COVID-19 returning. We have protocols in place for dealing with such occurrences.
To date, 268 nationals have returned to the Virgin Islands since the restricted border reopening. It is important to note that tests are done on returning nationals.
The Ministry of Health has conducted testing on 169 returning residents and ALL test results of these residents have been returned negative.
Currently there are 110 persons in quarantine. This number includes 99 nationals 11 immigrants who, as reported by the Royal Virgin Islands Police Force, entered the Territory illegally and were intercepted on the island of Prickly Pear. As reported in the House of Assembly on Friday, 439 persons have been tested as of 26 June.
The Ministry of Health continues to ensure that all persons returning to the Territory undergo a full 14 days of quarantine where they are monitored for any symptom development. Persons are only released after successfully completing 14 days of quarantine and testing negative.
COVID-19 can be undetectable in early stages of infection, hence the need for quarantine and other precautionary measures to be observed in relation to every arriving traveler for the entire 14-day quarantine period. The Ministry continues to track these persons for an added measure of safety and prevention of the importation of COVID-19 into the Virgin Islands.
Following release from quarantine, persons are advised to self-monitor for an additional 14 days and report any COVID-19 related symptoms to the Medical Hotline at 852-7650.
Members of the community are also reminded and encouraged to take personal responsibility in observing all safety precautions such as physical distancing, hand washing, hygiene and sanitisation, and wearing of face masks. It is advised that all business owners continue to follow these protocols as they will be considered for enactment in law. For more information on COVID-19 please visit bvi.gov.vg/covid-19.
Before I close, I wish to take this time to remind us that tomorrow, 29 June is Territory Day in the Virgin Islands. This year's Territory Day will be in the form of a virtual commemoration due to COVID-19. We will reflect on the theme, 'VALOUR, COURAGE, SACRIFICE: The March Towards Greater Autonomy: Shaping Collective Pride.'
We invite the public to view the virtual programme on Facebook live @BVIGovernment at 10:00 a.m. and it will be simulcast on ZBVI 780AM. Please join in celebrating this occasion, which is an important part of the history and development of the Virgin Islands; and as we think about the upcoming Constitutional Review. Happy Territory Day when it comes. God bless you and have a good evening.