Ministry of Health & Social Development
Release Date:
Friday, 4 September 2020 - 12:37pm
STATEMENT GIVEN BY THE MINISTER FOR HEALTH AND SOCIAL DEVELOPMENT
HONOURABLE CARVIN MALONE
ON FRIDAY, 4TH SEPTEMBER, 2020
COVID-19 UPDATE – SIXTEEN NEW CASES DETECTED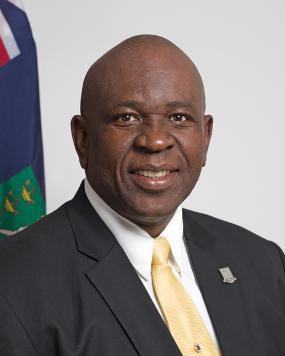 Greetings to everyone and thank you for joining us as I bring you another status report on the Territory's COVID-19 situation and response. In this update I will also provide an update on decisions taken at a Special Cabinet Meeting that was held on the 3rd of September.
I reported to you during my last Broadcast that the British Virgin Islands is experiencing small clusters of COVID-19 cases that are mainly linked to families, social or workplace settings and that the Territory has now transitioned to the 'Manage It' Orange Alert phase of our pandemic response.
This means that while carefully rebooting social and economic activities, we will maintain vigorous efforts to protect the public's health and limit transmission of the virus in our communities. Our goal remains to safeguard lives and livelihoods while living and working in an environment where the virus is present among our population.
Let me humbly address and correct from the outset a misleading notion that there are some 1,500 BVI residents presently infected with COVID-19, which arose from my previous remarks. This figure represented a scientific projection of what could have happened over a period of time, if we had not acted swiftly to quell the current outbreak. Once again, scientific modelling showed that if we did not act quickly and decisively to suppress the current outbreak, the virus could have spread among many other persons in our community.
The current Curfew Order, together with extensive testing and isolation, contact tracing and quarantine, community education and law enforcement measures are all part of our aggressive strategy to keep the number of persons exposed to the virus to a minimum.
Case finding through laboratory testing remains an important part of this strategy. It is by finding and isolating positive cases that we are able to monitor and support persons infected with this disease, and minimise exposure risk to those around them.
Since my last update on Tuesday the 1st of September, the number of new cases detected has increased by sixteen (16). These are all related in some way to existing clusters. The overall total number of confirmed cases in the BVI is therefore sixty-three (63). There are now 10 persons reported as recovered from COVID-19, and one death. The number of active cases therefore stands at 52.
Two patients remain in hospital where they were being treated for other underlying medical problems and are both awaiting recovery testing. Our thoughts, prayers and best wishes are with all the individuals and families directly impacted by COVID-19.
Of importance, since the 17th of August when case #12 was detected, I am pleased to report that our lab at the Dr. D. Orlando Smith Hospital has processed a record number of COVID-19 tests. Within a period of 18 days our teams have contact traced and has conducted tests of 1,823 new persons, bringing the total number of persons tested for the COVID-19 virus to 3,713; with 3,660 persons testing NEGATIVE.
The lab currently has capacity to test another 3,000 samples. Efforts are underway to procure additional testing supplies and other arrangements have been put in place to boost testing capacity. While testing for persons requesting certificates for travel and emergency admittance to the hospital will continue at the facility erected at the main hospital, the Sea Cows Bay Community Centre has now been fully commissioned as a temporary testing site for repatriates exiting quarantine and for persons identified through the process of contact tracing.
Persons experiencing symptoms related to COVID-19, or who may have been exposed to the virus are asked to call the Medical Hotline at 852-7650 for assessment and assistance.
Common symptoms include – fever, cough, headache, fatigue, loss of taste or smell, sore throat, muscle aches, or difficulty breathing.
Given the high volume of testing being done, the turnaround time for reporting test results to individual clients may take a few days, especially if the results are assessed as negative. Priority is given to notifying positive patients and determining their isolation and contact tracing arrangements.
Again, I say, DO YOUR PART! We will get through this together.
As we put our hands together to defeat this unseen adversary, this is not the time for division, discrimination or petty politics. "A house divided against itself cannot stand." It is disingenuous to state that this Government has kept the opposition in the dark without a plan or information concerning our actions being contemplated:
As early as March 2020, the Government sat in press conferences and with the Opposition and thereafter released our HEOC's National Action Plan against the COVID-19 Pandemic.
As detailed this pandemic planning is based on a six-phase strategy.
Plan For It (the planning and preparedness) phase
Keep It Out (the border management) phase
Stamp It Out (the cluster control) phase
Manage It (the pandemic management) phase
Manage It: (the Post-Peak) phase; and
Recover From It (the recovery) phase
In April, the Government commissioned a "Coronavirus Economic and Fiscal Stability Task Force" in response to the Coronavirus Crisis. This committee examined and is finetuning the BVI's Impact in relation to:
The cruise and overnight sectors of the Tourism Sector;
Fiscal Impacts;
Mandatory Curfew Impacts, and;
Other Social and Psychological Impacts
The Premier aired Nation Broadcasts related to:
The state and effects of the Financial Sector Industry;
The challenges being experienced in the Tourism sector;
The benefits of restarting and encouraging an aggressive Construction Industry;
The need to give assent to various Bills passed the House of Assembly aimed at introducing new and sustainable industries.
Most important to note is that all members of the House of Assembly, inclusive of members of the Opposition caring to attend, were subjected to a 90 minutes presentation by the Premier on the need to re-look and amend the 2020 Budget given the reality of income projections. Budgeted expenditures from each budget head were examined and readjusted to take into account the reality of the local fall-out of COVID-19 which relined proposed expenditure with realistic income projections.
The measures taken to further protect our South West Borders with 3 platform station barges is NOT at a cost of $17,000 per station, as stated by the Opposition, but alternatively at a cost of $4,666.67 per station. Before COVID-19, who would have thought that the BVI would be required to boost our security at the South West quadrant of our territory? I stand by our Government's decision to boost the local capabilities of our Joint Task Force comprising the Royal Virgin Islands Police Force; her Majesty's Customs and the BVI Immigration Department. Assistance from the British Naval Forces will always be welcomed but to deploy such force between St. John and Little Thatch is asking a bit much. Together our Joint Task Force shall disrupt the illegal actions to the South and North of Jost Van Dyke!
We will overcome this challenge and emerge stronger than before if we each do our part and focus our energy and attention on keeping ourselves and each other safe.
As previously announced, Phase 2 of our Restricted Border Reopening Plan took effect on the 1st of September. The categories of persons approved to enter the Territory during phases 1 and 2 are welcome to register at www.bvitravel.vg. Work Permit holders and other eligible non-nationals are encouraged to apply a minimum of 14 days before your intended date of arrival in the Territory. BVI nationals and permanent residents are reminded to register at least 7 days in advance of travel. These lead times will allow Immigration and Health officials to carry out the necessary verification procedures.
On Thursday the 3rd of September Cabinet met in a special session where members received and noted the Health Emergency Operations Centre: COVID-19 Situation Report #26.
Discussions centred on facilitating the phased reopening of our borders and economy, particularly by strengthening the enforcement of social distancing, sanitization and other public health measures outlined in the COVID-19 Control and Suppression Measures Order.
Cabinet decided that the Social Monitoring Task Force be immediately established under the Ministry of Health as per the requisite Acts and that the Deputy Governor's Office will support the set-up of the Task Force and re-assignment of public officers or such other qualified persons outside the Public Service, as may be designated by the Minister;
We noted that upon the establishment of the Social Monitoring Task Force, the Task Force will cooperate with the Royal Virgin Islands Police Force and the Environmental Health Division in enforcing the Suppression Order, 2020;
Cabinet also decided to amend Phase 2 of the Restricted Border Re-opening Protocols to take account of relevant emerging issues to be approved by the Minister of Health on a case by case basis;
We also decided to remove the inclusion of Inland Revenue Certificates of Good Standing as one of the requirements for Phase 2 of the Restricted Border Re-opening process as the current system utilised by the Inland Revenue Department;
As a Cabinet we decided, in principle, to extend, if needed, contracts with hotels from the inventory previously contracted, on a month-to-month basis to support community quarantine and other special requirements, subject to approval of the financial arrangements by the Ministry of Finance;
We noted that limited essential Government offices would be operational from 7th to 16th September, 2020, in the first instance, between the hours of 8:00 a.m. and 12 noon; and
We also decided that the Social Distancing Task Force ensures that the Public Service adheres to COVID-19 protocols established for the safety of staff and the management of office operations.
Once again we strongly urge all members of the public to comply with all established health and safety protocols and dial 311 to report any suspicious activity.
While accessing or delivering essential services in the public and private sectors, we must not risk the gains or sacrifices that we have made to stop the spread of COVID-19.
In addition to measures such as physical distancing of 6 feet, wearing of face masks covering your nose and mouth, hand washing and sanitization, I also encourage us to boost physical and mental health through good nutrition, physical fitness, stress management and other healthy coping mechanisms.
Thank you for your commitment to this common cause.
For more information on the Territory's COVID-19 response please visit the website www.bvi.gov.vg/Covid-19.
Thank you and may God continue to protect and bless these British Virgin Islands.