Ministry of Health & Social Development
Release Date:
Tuesday, 25 August 2020 - 12:00am
STATEMENT GIVEN BY THE MINISTER FOR HEALTH AND SOCIAL DEVELOPMENT
HONOURABLE CARVIN MALONE
ON MONDAY, 24th AUGUST, 2020
COVID-19 UPDATE – FIVE NEW CASES DETECTED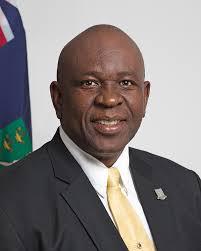 Ladies and gentlemen, Good Evening. COVID-19 was declared a pandemic by the World Health Organization in mid-March 2020 and resultantly, the Government of the Virgin Islands took immediate and decisive measures to protect lives and livelihoods.
With the investments made, the measures taken and with the Grace of God we recorded a limited number of cases for an extended period of time.
Over this past weekend, five (5) new cases of COVID-19 were confirmed through PCR testing at the Dr. D. Orlando Smith Hospital, bringing the total number of cases detected in the Territory to twenty-six (26). Seventeen (17) of these cases remain active, with eight recoveries and one (1) death recorded after testing a total of 2,195 persons in our local laboratory.
Case #22 was detected while obtaining treatment at the Emergency Room. Our Contact Tracing teams have been working to identify and quarantine primary and secondary contacts connected to this patient. A total of 46 contacts of recent cases have been tested during the past week.
Out of these investigations three primary contacts of Case #22 tested positive, along with one primary contact of Case #12, which together comprise the five new cases detected.
Given these circumstances, the BVI is now classified as having 'clusters of cases' in accordance with the World Health Organizaton (WHO) transmission classification guidelines. We remain at Phase 3 of our National Action Plan against the COVID-19 Pandemic which is dubbed the 'Stamp it Out' phase. The main objective is to rapidly contain spread and prevent transmission within the community, especially to vulnerable groups.
Cabinet of the Virgin Islands has completed an intensive review of the Health Emergency Operations Centre COVID-19 Situation Report #23 and has taken into account:
The challenges that have arisen from activities seemingly spurred by greed.
The measures required to effectively contact trace, swab and test all suspected persons.
The desire to limit the movement of all residents without a complete and total lock-down of our territory to allow our medical team the ability to complete their work without hinderance.
Given the above considerations CABINET:
Received and noted the Health Emergency Operations Centre: COVID-19 Situation Report #23;

approved, in principle,:


the leasing of premises to be identified that can be used as the testing facility to accommodate the increased testing demand associated with the contacts of the additional cases;
the use of public premises that can be used as the testing facility to accommodate the increased testing demand associated with the contacts of the additional cases; and
the identification of alternative police custody facilities outside of police premises, subject to further advice from the Attorney General.


advised that the National Security Council instruct the Attorney General to draft a new Curfew Order for the imposition of a curfew for a fourteen day period from 26th August, 2020 from 5:01pm to 4:59am;

decided that in the first seven (7) days of the Curfew period, the following categories of businesses be allowed to operate, subject to review:


supermarkets/minimarts (limited to two persons per vehicle)
approved delivery services;
pharmacies/drug stores;
bakeries;
banks (with limited internal operations, such as, but not limited to clearing of overnight deposits services);
farmers and fisheries;
fuel and LPG Stations;
private health care providers, subject to approval of their client list by the Minister of Health;
burials, subject to approval by the Minister of Health;
essential workers as defined in Section 3 of the Labour Code; and
exempted persons as listed in the current Curfew Order, except item (n).


decided that under the Prison Rules, visits to and from Her Majesty's Prison (Balsum Ghut) be restricted, with the exception of emergency situations determined by the facility to necessitate a visit;
Decided that all facilities that serve as residential establishments, namely, the Adina Donovan Home for the Elderly, Virgin Gorda Elderly Home, Rainbow Children's Home; Safe Haven Transition and other private residential facilities, and as may be amended by the Cabinet, are advised to prohibit visits in and visits out, with the exception of emergency situations determined by the facility to necessitate a visit.
In the words of the WHO Director-General, "The best way out of this pandemic is to take a comprehensive approach. Find, isolate, test and care for every case, trace and quarantine every contact, equip and train health workers and educate and empower communities to protect themselves and others. Not testing alone. Not physical distancing alone. Not contact tracing alone. Not masks alone. Do it all."
The Government of the Virgin Islands continues to take a comprehensive approach in our efforts to protect public health by investing millions of dollars and the best available expertise across various disciplines. As the situation evolves, we must be prepared to change course quickly based on scientific evidence.
Governments and health professionals cannot do this alone. It is also important to have active participation by every member of society. Among my worst fears has been the suspicion that certain persons in our community would favour greed over health and safety. This is the condition we have found ourselves in.
As a community we must rally together to protect each other against this threat by requiring more of ourselves and our fellow residents. We can get through this together only if you do your part.
The most effective tools against the spread of COVID-19 are the simplest ones, and they are all in your hands. I repeat again; cough etiquette and personal hygiene, physical distancing, frequent handwashing and sanitisation of surfaces, wearing of face masks and face shields. Know the symptoms of the disease and seek help by dialling 852-7650 if you experience any of the symptoms; fever, cough, headache, fatigue, loss of taste or smell, sore throat, muscle aches, or difficulty breathing.
For older adults, people with underlying health conditions, and the persons that care for them, please make a special effort to consistently practice prevention measures such as handwashing and sanitization. Make sure you have an ample supply of any medications you are currently taking, and minimise social interaction as far as you can. Keep in regular contact with loved ones via telephone, electronic or social media, and seek assistance from others if you need it. During times of stress, pay attention to your own needs and feelings and speak to someone you trust.
Over the course of this week our hardworking health teams will be conducting community screening exercises in Anegada, Virgin Gorda, Sea Cows Bay and East End/Long Look. I encourage the residents of these areas to pay close attention to the details of these testing arrangements as they are announced via local media.
I close with by encouraging everyone to seek information updates at regular intervals from official sources such as the Government's website www.bvi.gov.vg/covid-19 or other regional and international public health authorities. Get the facts, and avoid rumours and misinformation.
The increasing volume of 'fake news', false reports, conspiracy theories and other outlandish claims being circulated is not only distracting, but increasingly dangerous to public health as they may discourage vulnerable individuals from potentially life-saving measures. Thank you for your attention and your full cooperation. May God continue to bless each of us. May GOD bless the British Virgin Islands. Good night.