Ministry of Health & Social Development
Release Date:
Wednesday, 19 August 2020 - 9:00pm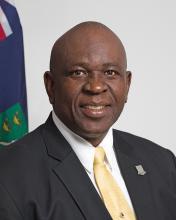 STATEMENT GIVEN BY THE MINISTER FOR HEALTH AND SOCIAL DEVELOPMENT
HONOURABLE CARVIN MALONE
ON MONDAY 19TH AUGUST, 2020
COVID-19 UPDATE – CASE NUMBER 12
Ladies and gentlemen, good evening. Forty-eight (48) hours ago I made announcements of two additional COVID-19 cases that were detected while in government sponsored quarantined facilities.
In fulfillment of our commitment to keep you fully informed, earlier today, Wednesday August 19th 2020, a new COVID-19 case was confirmed through laboratory testing, bringing the total number of positive cases detected in the BVI to twelve (12). Three (3) of these cases remain active, with eight (8) recoveries and one (1) death recorded to date.
Case #12 was presented at the emergency room after experiencing moderate symptoms – was subsequently admitted and is currently isolated and hospitalized at the Dr. D Orlando Smith Hospital. While the individual is residing legally in the Virgin Islands the case does not have a history of recent travel out of or into the Territory.
Contact tracing and related investigations are currently being conducted by teams from the Ministry of Health, and the BVI Health Services Authority.
A number of proactive steps have been taken to safeguard the institution and the community:
• Visitation hours and privileges at the Dr. D Orlando Smith Hospital has been suspended.
• All staff members coming into contact with the case has been traced and is being assessed.
• Analysis is being conducted to determine the level of exposure by each contacted staff member.
• The apartment building at which the case resides is being quarantined.
• Aggressive contact tracing of all close contacts of the individual has commenced and is being accelerated.
• The bars and night clubs to which the individual has frequented has been identified and would be contacted for further contact tracing.
As more information becomes available the public will be advised of any public health or other measures that may need to be put in place for your safety.
As reported on numerous occasions, your Government has invested and is investing millions of dollars to better prepare our health services sector to better cope with the eventuality of COVID-19 cases that may occur.
• The testing facilities have been constructed on the emergency floor level.
• The 3rd floor of the hospital has been converted into an isolation center.
• Also ventilators have been purchased and others donated by Public Health England.
• Additionally from our public purse and from donors, we have setup the COVID-19 testing lab. Our lab facilities have been upgraded to conduct PCR COVID-19 testing with results available in considerably less time that before.
• A brigade of Cuban Health professionals have been recruited to assist our highly trained professionals at the hospital and at the Sister Islands medical facilities.
• Our private health care facilities have given full and unreserved assistance and cooperation in our battle with COVID-19.
• Our messaging has been consistent; WE ARE NOT OUT OF THE WOODS.
THE CORONA VIRUS IS NOT PLAYING WITH US AND WE CANNOT PLAY WITH CORONA VIRUS.
THE ONLY WAY TO ENSURE THAT WE HAVE ALL OF THE EQUIPMENT THAT WE NEED IS TO NEED NONE OF THE EQUIPMENT THAT WE HAVE.
IF WE ACT RESPONSIBLY! IF WE DO OUR PART; WE WILL GET THROUGH THIS Together.
Members of the community are reminded of the importance of adherence to the established guidelines of social distancing, personal hygiene, wearing of face mask, and hand washing. Businesses are admonished to consistently adhere to the protocols under which they were approved to operate by the Environmental Health Division.
We strongly urge all members of the public to bring to the attention of the relevant authorities – whether Police, Customs or Immigration - any suspicion or evidence of people smuggling into the Territory. Illegal entry provides an avenue for COVID-19 to enter and spread among our community.
If you experience any symptoms related to COVID-19 please contact the Medical Hotline at 852-7650 to schedule an appointment for testing. Common symptoms include ;; fever, cough, headache, fatigue, loss of taste or smell, sore throat, muscle aches, or difficulty breathing. Again, if you are experiencing these symptoms please call the Medical Hotline at 852-7650.
As the detection of Case #12 clearly illustrates, we are not out of the woods, as COVID-19 continues to pose an imminent threat to our beloved community. Let us do all that is within our power to safeguard ourselves and our loved ones from this dangerous virus by complying with the basic safety measures that have been put in place for our protection.
The Government of the Virgin Islands remains committed to keeping you informed of all significant developments related to COVID-19. For more information on the Territory's COVID-19 response please visit the website www.bvi.gov.vg/Covid-19
May God continue to bless each of us. May GOD bless the British Virgin Islands. Good night.