Premier's Office
Release Date:
Monday, 24 September 2018 - 11:54am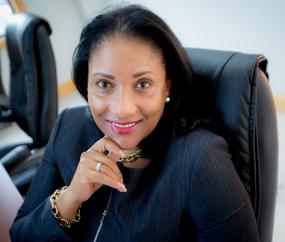 Mrs. Sherri Ortiz-Fahie has been confirmed to the post of Interim Director of the BVI House Asia (Hong Kong Office), effective October 1.
The appointment was confirmed by Premier and Minister of Finance, Dr. the Honourable D. Orlando Smith, OBE through the Premier's Office.
Mrs. Ortiz-Fahie will be the BVI's official representative in Hong Kong to service the Asia Pacific Region and will manage the day to day operations of BVI House Asia.
She will speak on behalf of the BVI Government as part of the BVI diplomatic and financial services initiatives and represent the interests of the BVI at functions, events and conferences.
In addition, Mrs. Ortiz-Fahie will advise and make recommendations to the Government on all matters relating to the BVI and the BVI House Asia. She will respond to enquiries of a social, political or economic nature from the region and promote investment into the BVI.
Her other responsibilities will include strengthening the Territory's voice and promoting the BVI's reputation; identifying business development opportunities and maintain relationships with counterparts in provinces throughout China and the Asia Pacific Region.
Mrs. Ortiz-Fahie brings a wealth of knowledge and experience to the post having served in both the public and private sector in various levels.
Mrs. Ortiz-Fahie was the Deputy Financial Secretary in the Ministry of Finance from 1997 through 2002. She served as a Managerial Financial Consultant at MWM Financial Services & Abacus Trust and Management from 2003 through 2005 and as a Compliance Manager at Citco BVI Limited from 2005 through 2007. She worked as the Executive Director of the International Finance Centre from 2007 through 2012 and transitioned to Sterling Group (BVI) Limited where she serves as Director and Compliance Officer.
Mrs. Ortiz-Fahie holds a Bachelor of Science in Business Management and Finance, a Compliance Diploma from the International Compliance Association and a LLB from Wolverhampton Law College in the United Kingdom.
BVI House Asia is based in Hong Kong, and is the British Virgin Islands Government's Representative Office in the Asia Pacific Region. The office is committed to expanding, strengthening and deepening the BVI's footprint in Asia with a focus on financial services industry.
BVI House Asia was launched in September 2013 as the Asia Pacific Regional Office to conduct diplomatic and consular activities in the interests of the BVI as a jurisdiction.
BVI House Asia is responsive in real time, answering any questions about BVI business and working with industry practitioners to increase knowledge about the use of BVI structures and economic business opportunities.
Author