Office of the Governor
Release Date:
Monday, 30 July 2018 - 5:34pm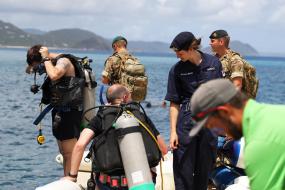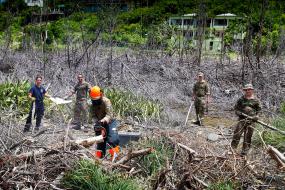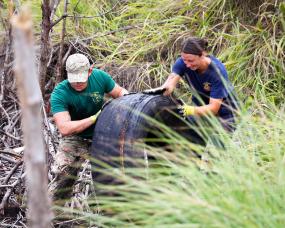 The crew of the RFA Mounts Bay is assisting with efforts to restart the local tourism industry on their second visit to the Territory this month.
The ship's crew is diving in Cane Garden Bay and Smuggler's Cove and is conducting a thorough clean-up of the seabed. Debris from last year's hurricanes is being removed, making the beaches safer and restoring their natural beauty for tourists to enjoy. The vital work is expected to assist with attracting tourism operators back to the Islands.
The team is also clearing the mangrove swamp area and planting coral nurseries to help restore the reef, and is working at Ivan Dawson Primary School to install a new rain garden to help prevent flooding.
RFA Mounts Bay will participate in a training exercise tomorrow alongside teams from VISAR (Virgin Islands Search and Rescue), Customs and the police to strengthen search and rescue capabilities. The Royal Navy ship is deployed to the region until at least 2020 to provide immediate support in the event of hurricanes.
Lord Ahmad, the UK's Minister for the Overseas Territories will be visiting BVI on Tuesday and Wednesday to view progress made with UK support, on hurricane recovery and preparedness ahead of the height of this hurricane season.
Author