Ministry of Communications and Works
Fire and Rescue Service
Release Date:
Tuesday, 12 October 2021 - 4:01pm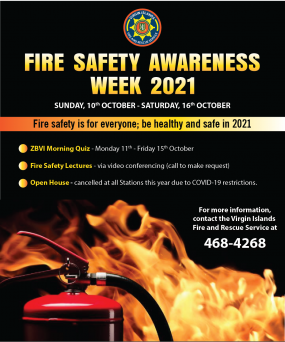 Minister for Transportation, Works and Utilities Honorable Kye M. Rymer is encouraging residents to continue to support the officers of the Virgin Islands Fire and Rescue Service.
Honourable Rymer while addressing the official opening of Fire Safety Awareness Week 2021 on Sunday, October 10 stated, "Even as we are still in this COVID-19 moment, our fire officers continue to work 24 hours a day (7) seven days a week. It is fitting that we continue to support them."
Honourable Rymer said, "Since the hurricanes of 2017, Irma and Maria, through my ministry, we have restored all the fire stations in the Territory; purchased vehicles to be used by officers and we continue to ensure that they can continue to serve safely."
Meanwhile, Chief Fire Officer Mr. Zebalon McLean said that there will be no open house at any of the stations, nor any of the other gatherings in this year's observance.
"We will continue with our annual quiz, however there will be no game nights or sports nights," Mr. McLean said, adding, " 'Fire Safety is for Everyone, Be Healthy and Safe in 2021' is this year's theme and in-spite of the COVID-19 challenges, the Virgin Islands Fire and Rescue Service remains committed to residents in observing Fire Safety practices."
Chief McLean said businesses, departments and agencies are invited to set up online meetings, where officers can join them and provide training on Fire Safety and Fire Prevention, whether on WEBEX, ZOOM, or other means.
Other activities for the week includes:
Monday, October 11 to Saturday, October 16:
Fire Safety Lectures by request (Zoom, Webex, etc).
ZBVI Morning Quiz 6:25 a.m. School aged-children are invited to participate.
The Virgin Islands Fire and Rescue Service continues to carry out its mandate of protecting life, property and the environment, through a proactive approach to continuously enhance the quality of service provided. For more information, telephone the Virgin Islands Fire and Rescue Service at 468-4268 or 468-4182.
Author