Governor's Group
Office of the Deputy Governor
Department of Disaster Management
Release Date:
Thursday, 12 July 2018 - 5:36pm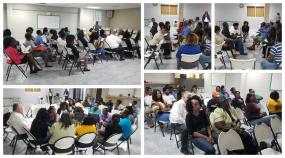 Several communities across the Territory will be engaged in a series of Community Emergency Response Training (CERT) to enhance their state of readiness.
The first session was held at the New Testament Church of God in Baughers Bay on July 9 which saw over 25 persons in attendance.
CERT is administered by the Department of Disaster Management (DDM) in collaboration with a number of agencies including the Virgin Islands Fire and Rescue Service, the BVI Red Cross and the BVI Health Services Authority.
Training Manager, Carishma Hicks, while describing the importance of the training to the various communities said, the programme was adapted from the United States Federal Emergency Management Agency (FEMA) to serve as a key initiative to get communities in a state of readiness.
Ms. Hicks said, "It covers a wide variety of areas including fire suppression, fire safety, basic search and rescue, disaster medical operations, CPR, First Aid, damage assessment, shelter management and now a module of psychosocial support. The training is administered over the course of five evenings, from 6:00 to 8:00 p.m. The DDM has been involved in CERT Training since the early 2000s and have developed the skills among the staff to be able to deliver the programme to a variety of groups."
CERT training will be conducted throughout the month of July in communities across the Territory with funding from the Unite BVI in partnership with the Foreign and Commonwealth Office through a Non-Governmental Partnership initiative.
The DDM's Training Officer added that training will continue for groups and educational institutions with dedicated funds available through a Caribbean Development Bank grant initiative. Communities of Jost van Dyke, Sea Cows Bay and East End/Long Look will be targeted
Ms. Hicks said, "We will also be working with the Adventist Development and Relief Agency (ADRA) and United Nations International Children's Emergency Funds (UNICEF) to offer a special programme for teachers of public and private schools from primary to tertiary levels, as well as a CERT for teenagers - a programme we hope to offer in early August. Specialized training is also being offered for large church groups in the coming months as well as Business Emergency Response Training (BERT) for the private sector."
The DDM is expecting to train some 400 persons across the Territory by the end of this year.
The department is being supported by additional local trainers who have been working over the years to gain their certification. These persons will serve as facilitators for the upcoming training.
Author