Ministry of Health & Social Development
Release Date:
Tuesday, 31 March 2015 - 11:00am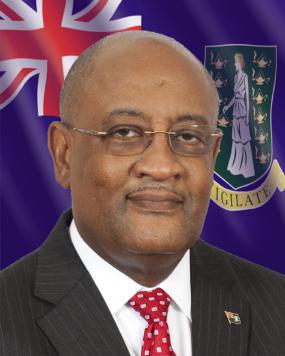 My Fellow Virgin Islanders and friends, today is an exciting day for the Government and people of the Virgin Islands, and for the people of Virgin Gorda in particular, as it marks a crucial milestone in our quest to strengthen the delivery of health services on the Sister Islands. As we gather here to witness the Contract Signing and Ground Breaking for the Nurse Iris O'Neal Medical Centre, we are witnessing a very big step towards our dream of a world-class healthcare system, and better health outcomes for the people of the Virgin Islands.
I am extremely grateful and proud that so many members of the Virgin Gorda Community are here today, and have actively participated in developing the conceptual design of this much needed facility. This medical centre will fill a special need, and is a vital component of our health infrastructure development programme, as outlined in our comprehensive National Health Strategy.
As the Permanent Secretary mentioned, we have been unrelenting in our efforts to deliver this facility to you. After receiving community approval for the conceptual designs at a public meeting at the Catholic Community Centre on May 7th, 2013, AR Potter and Associates incorporated your suggestions in the final designs. On April 10th, 2014 the drawings received Planning approval, enabling us to forge ahead with the tendering process from May to August of 2014. The Government then entered into negotiations with two tenderers in an effort to achieve the best value for money, and in February 2015 Cabinet awarded the contract to James Todman Construction Ltd.
I take this opportunity to thank the Architect Ms. Avaline Potter, for her fine work and for her dedication and commitment to developing practical designs that would respond to the needs of the Virgin Gorda community. A heartfelt thank you is also extended to the very professional staff of the Ministry of Health and Social Development who navigated this project through the vigorous functional planning, design development, tendering and contracting processes. I must also congratulate the General Contractor, Mr. James Todman, and thank him for his keen interest in making sure that this project gets off to the right start. We are also grateful to the Quantity Surveyors, BCQS International, and the Project Engineer, Ms. Shaina Smith for lending their expertise to this project, and to everyone else involved, for whatever part they played in bringing us to this point today.
The need for this facility was identified many administrations ago, I dare say before the National Democratic Party was even conceptualised. From its very inception, the National Democratic Party made a commitment in our 1999 manifesto to build a state-of-the-art hospital on Tortola, and upgrade the clinics on the Sister Islands to first-class modern standards. My Fellow Virgin Islanders and Friends our state-of-the-art hospital on Tortola is today a reality, and a modern medical centre on Virgin Gorda is now underway.
We are extremely proud of the steady progress being achieved in building our health services, health systems and health infrastructure; but we are not home yet. We continue on our quest to modernise Community Health Clinics throughout the entire Territory.
This year we plan to introduce more Information and Communications Technology on the Sister Islands, to strengthen links and increase access to specialist doctors at Peebles Hospital. We will also expand the range of specialist services offered at Community Clinics in strategic locations; and extend their operating hours. Once this new Medical Centre is completed and fully operational it will operate on a 24 hour basis. In the meantime we are working towards extending the operating hours of the existing Clinic up to midnight.
Along with these investments, it is important that we strengthen the role that Community Clinics play in improving the health of individuals and families by promoting more active patient involvement in disease prevention and care. Actively partnering with patients and communities is an important aspect of our Chronic Non-Communicable Disease Prevention Strategy.
My Fellow Virgin Islanders and Friends, I can assure you that the National Democratic Party Government is well positioned to achieve these goals, and to make the vision of a healthier Virgin Islands a firm reality.
As you heard from previous speakers, the Nurse Iris O'Neal Medical Centre will provide wide ranging services to the Virgin Gorda community that will reduce the need to leave the island for medical care. It is important to note that along with our tele-medicine services that will enable access to specialist doctors from remote locations, this facility will be equipped to provide: -
Emergency care
Dental health services
Health promotion and education
Family Health Programmes
Pharmacy services
Physiotherapy and rehabilitation services
Laboratory services
Radiology
Stabilization for emergency transfers
And other medical and nursing treatments and procedures.
This phase of construction will feature a modern laboratory, pharmacy, imaging room, procedure and treatment rooms, an Accident and Emergency room designed to be fitted-out with state-of-the-art equipment; a security counter, nurses' station, a reception area with 25 indoor seats, 28 outdoor seats, and public restrooms.
The Grounds will be well lit, beautifully landscaped, and will include 25 parking spaces with three (3) handicapped spaces, 25 staff parking spaces and a driveway to overflow parking. The facility will also feature an Ambulance Bay, a Patient Drop Off location, and back-up generator.
Fellow Virgin Islanders and Friends, the entire BVI community welcomes the news that this long anticipated modern facility is now becoming a reality. Residents and visitors of Virgin Gorda and surrounding communities will finally be able to have convenient access to a wide range of affordable, high quality healthcare services right here on island.
We ask for your patience during the various phases of construction as our able General Contractor, Mr. James Todman, begins his work to construct this beautiful facility.
I trust that his company will seek to build relationships with fellow contractors and businesses on Virgin Gorda, wherever possible; and I am confident that he will deliver to his usual high standards on this very important project.
While this facility will be fully equipped to handle most medical situations that would arise, it will be necessary to stablilise and transfer more serious cases to Peebles Hospital and tertiary healthcare facilities overseas for further treatment. We have heard the cries of nurses, emergency responders, patients and their families about the challenges endured because of the absence of a reliable mode of medical transportation. Our long-term vision is to one day commission a purpose-built ambulance boat and helicopter service for medical evacuations. In the meantime, I am happy to report that repairs have been completed on the Motor Vessel Vigilant II, which will be used for emergency medical transfers from Virgin Gorda to Tortola. The vessel required more extensive repairs than we realised when it was first handed over to us, and the repair work took a lot longer than expected.
The boat is now sea-worthy, and we are making final arrangements to hire a captain and crew to operate it in partnership with the Fire and Rescue Services Department.
I conclude my remarks by reminding you that improving the health of our people requires a partnership effort. Permit me to publicly express our gratitude to the Bitter End Yacht Club for demonstrating corporate citizenship in generously pledging $100,000 over three years towards the purchase of equipment for the existing and new Nurse Iris O'Neal Clinic. I trust that other community-minded businesses in Virgin Gorda, and indeed throughout the Territory, will follow their fine example.
My Fellow Virgin Islanders and Friends, our National Health Strategy has taken shape, and our healthcare services are steadily improving in quality, variety, and accessibility in order to better accommodate the needs of the community. We are asking for your continued support as our health system continues to grow from strength to strength.
I thank you all, once again, for sharing in this historic occasion, and for your unwavering commitment to achieving our goal of a healthier Virgin Islands.
May Jehovah continue to bless you with good health, and keep you in the palm of his hands.
Thank you.