Department of Disaster Management
Release Date:
Thursday, 12 July 2018 - 1:39pm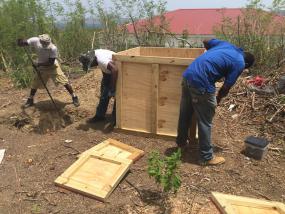 The re-installation of a number of early warning components throughout the Territory is said to be moving full steam ahead.
Emergency Communications Manager, Mr. Jasen Penn is spearheading the installation works with a team of interns and technical staff from the Department of Disaster Management (DDM). He said steady progress is being made with the installations.
Mr. Penn said, "We have been able to source and purchase a number of equipment including 24 weather stations, eight sirens, 100 smart radios, equipment for re-installation of seven strong motions sensors to measure earthquake activity and six encoders to re-establish the emergency broadcast system linked to the local radio stations."
Mr. Penn added, "We also have commitment from a number of regional and international partners to support these efforts and to further upgrade the networks. We are now working to have these units quickly installed."
Following the impact of hurricanes Irma and Maria, entire networks built over a 40-year period were destroyed. Cabinet approved nearly half a million dollars to support the re-installation of these instruments.
In addition to the hazard monitoring components, the DDM is also working to complete repairs to the telecommunications mechanisms linked to radio stations and repeater systems.
"We have acquired equipment to reinstall the emergency broadcast system as well as the disaster preparedness telecommunications network that allows for linkages with over 100 sites throughout the Territory," Penn said. He added, "We also have some exciting and innovative projects ongoing with local telecommunication partners that will help to further improve our ability to alert and warn the public."
The Government of the Virgin Islands will also re-construct a new National Emergency Operations Centre in Macnamara through a loan agreement with the Caribbean Development Bank. This facility will eventually serve as a central hub for monitoring hazards; alerting and notifying systems managed by the DDM.
Significant progress has been made in advancing the requirements of the loan agreement to have the existing plans reviewed and to ensure that they meet the new standards for Emergency Operations Centres.
Author