Governor's Group
Office of the Deputy Governor
Office of the Director of Public Prosecutions
Release Date:
Wednesday, 19 October 2022 - 4:11pm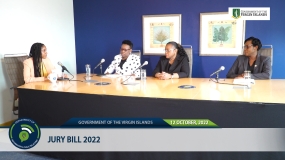 The Government of the Virgin Islands is inviting the public to utilise an online form to submit their feedback on the Jury Bill 2022.
Director of Public Prosecutions (DPP), Ms. Tiffany Scatliffe, explained that the current Jury Act was passed in 1914 and that the process to get a new Jury Bill that better facilitated the criminal justice process started in 2009.
Ms. Scatliffe said the Jury Bill 2022 is the product of this reformation and includes provisions designed to modernise and enhance the performance of the jury system in the Virgin Islands. She also expressed that it is important for the public to understand the Bill and the Jury system it outlines, as it is an essential part of the criminal justice system.
"What people have to understand is that when someone appears before the court, it is imperative that they have a set of jurors who have the understanding, impartiality and the life experience of living in the BVI to give a fair and right verdict," the DPP said.
Registrar of the High Court, Mrs. Vareen Vanterpool-Nibbs encouraged persons to ask questions about the Bill.
"We understand that the public would rightly have questions on this piece of legislation," the Registrar said. She added, "We would encourage persons to raise the questions in the right forums so that there is a better understanding of what is happening. Please be informed as much as possible because the Jury system is a very integral part of our criminal justice system."
Mrs. Vanterpool-Nibbs also stated that knowledge of the jury system would benefit those who are called upon to do their civic duty and serve as jurors.
"When persons understand what it is about, having to be summoned later on to be part of the jury pool would not come as a shock because they understand what it is about and understand their role."
Security and Justice Policy Advisor, Mrs. Olva McKenzie-Agard encouraged the public to participate in the process and submit feedback on the legislation.
"While the Bill has gone through a reformation process, not everything is entirely new. It may be worth comparing the current act with the new Bill but also to read it and submit your questions. We will be more than willing to provide answers to your questions," Mrs. McKenzie-Agard said.
The form can be accessed at bit.ly/jurybill2022, and includes a link to the Bill which persons can review online at their own convenience. Persons can also submit their feedback to dgo@gov.vg or call 468-3000 or 468-2195.
Author