Premier's Office
Release Date:
Wednesday, 6 July 2022 - 5:02pm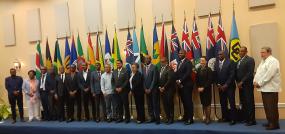 Premier and Minister of Finance Dr. the Honourable Natalio D. Wheatley has updated Caribbean leaders on the progress of government reform at the 43rd Meeting of the Conference of the Heads of Government of the Caribbean Community (CARICOM) in Paramaribo, Suriname from July 3 to 5.
Premier Wheatley told the regional meeting of Presidents, Prime Ministers, Premiers and Ministers: "Government reforms are progressing well. Previously initiated reforms have been integrated into our reform programme mutually agreed with the United Kingdom."
The Premier also committed to keeping CARICOM updated on the progress of implementing reforms, led by the Government of National Unity.
Additionally, he thanked CARICOM for their steadfast support and offers of assistance during the Territory's recent political turbulence, and pledged the British Virgin Islands' full support to CARICOM as the block takes steps to address and respond to various regional and international challenges.
"The British Virgin Islands is a proud Associate Member of CARICOM and will remain fully engaged as we tackle challenges together as a region," the Premier said.
Premier Wheatley was joined by Assistant Secretary for External Affairs Ms. Dwynel Davis and Special Envoy of the Premier Mr. Benito Wheatley.
CARICOM is a block of countries and territories in the Caribbean region that include Antigua and Barbuda, Bahamas, Belize, Dominica, Grenada, Guyana, Haiti, Jamaica, Saint Kitts and Nevis, Saint Lucia, Saint Vincent and the Grenadines, Suriname, Trinidad and Tobago, Anguilla, Bermuda British Virgin Islands, Cayman Islands, Montserrat and the Turks & Caicos Islands.
Suriname currently holds the Chairmanship of CARICOM under the leadership of His Excellency President Chandrikapersad Santokhi.
###
NOTES TO EDITOR(S): Photograph is attached
Author