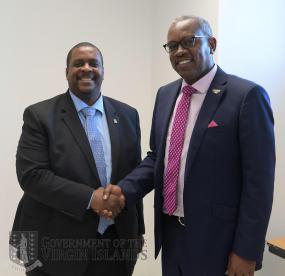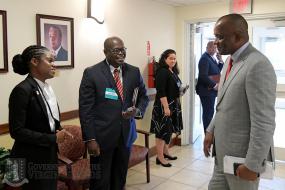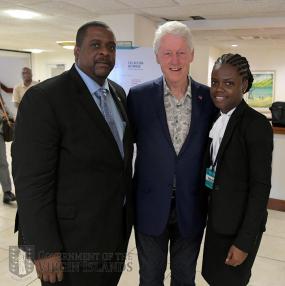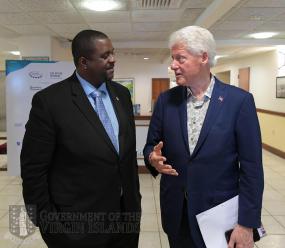 Premier and Minister of Finance, Honourable Andrew A. Fahie led a delegation to the Clinton Global Initiative Conference in St. Thomas, United States Virgin Islands yesterday, June 4.
Premier Fahie was invited to sit on the panel moderated by former President of the United States of America, Bill Clinton.
While sitting on the panel, Premier Fahie discussed the importance of supporting small businesses as well as the importance of utilising alternative source of energy for the Territory.
During the event, President Clinton lent his voice and influence to the cause of rebuilding a climate resilient Caribbean region following the devastations of Hurricanes Irma and Maria in September 2017.
Premier Fahie expressed his pleasure in being invited and said that it is a welcomed demonstration of the former President's commitment to the region by way of hosting this Post Disaster Recovery Conference in St. Thomas, USVI at the University of the Virgin Islands.
Other members on the panel were the Prime Minister of Aruba, Honourable Evelyn Wever Croes; the President, Chief Executive Officer and Director of First Bank, Mr. Aurelio Aleman-Bermudez; and President of St. Croix Foundation for Community Development, Ms. Deanna James.
The Clinton Global initiative has been an active partner in the Caribbean region since the passage of Hurricanes Irma and Maria in September 2017. The initiative committed to supporting the High-Level Donor conference organised by the Caribbean Community at the United Nations Headquarters in New York in November 2017.
Attached:
Premier of the Virgin Islands, Honourable Andrew A. Fahie and Junior Minister for Trade and Economic Development, Honourable Sharie B. de Castro pictured with former President of the United States of America, Bill Clinton. (Photo Credit: Ronnielle Frazer/GIS)
Premier of the Virgin Islands, Honourable Andrew A. Fahie pictured shaking hands with Governor of the United States Virgin Islands, Governor Albert Bryan Jr. (Photo Credit: Ronnielle Frazer/GIS)
Premier of the Virgin Islands, Honourable Andrew A. Fahie speaking with former President of the United States of America, Bill Clinton. (Photo Credit: Ronnielle Frazer/GIS)
Junior Minister for Trade and Economic Development, Honourable Sharie B. de Castro and Speaker of the House, Honourable Julian Willock speaking with Prime Minister of Dominica, Honourable Roosevelt Skerrit. (Photo Credit: Ronnielle Frazer/GIS)
Author
Ministry or Department Associated with this News Article: