Premier's Office
Ministry of Health & Social Development
Release Date:
Wednesday, 2 September 2020 - 7:53pm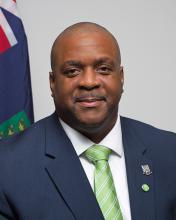 Premier and Minister of Finance, Honourable Andrew A. Fahie is urging persons exhibiting symptoms of COVID-19 to call the medical hotline and get tested.
In his statement titled, "COVID-19 Update - Operation Containment and Operation Eradication" Premier Fahie said residents have a responsibility to protect themselves and others.
"I plead with everyone in the BVI no matter your situation to come forward once you feel you have symptoms or you have been in any area where you feel is compromised with the Coronavirus and be tested, Honourable Fahie said.
The Premier also called on persons to stop discriminating against those with the virus and their families.
He said, "I thank all of you who are encouraging others to be mature and not to discriminate against persons who are willing to come forward to be tested, those who are on quarantine, or who may have tested positive at some point."
He added, "COVID-19 is not discriminating; so, why should we? The Government and people of the Virgin Islands along with the rest of the world are fighting against a silent enemy, one that we cannot see called Coronavirus or COVID-19. Government alone cannot protect you from COVID-19. We all have a responsibility to protect ourselves, our families and each other."
He added that it is an individual responsibility to stomp the virus out of the Territory. "It is your responsibility to keep you safe, those around you, and by extension the BVI. Let us change the environment in which we live. Let us continue not taking any chances. Every life is precious," Honourable Fahie stressed.
"This fight is not about what you look like. This fight is not about your reputation. And this fight is not about your immigration status. This fight is about your health. It is about your safety. It is about your family and your community. It is about all of us working together to do our part and keep COVID-19 out," he added.
Premier Fahie encouraged persons to adhere to all health and safety protocols and stated that failure to do this can lead to further economic setbacks.
He said, "If persons fail to adhere to all the further measures being put in place now to contain COVID-19, then, and only then, we will be forced to implement a 24-hour 14-day lockdown; so my people the choice is ours."
The Premier further stated, "If we cannot handle living through these measures, then we will be setting back phases two and three of the reopening plan, and by extension our economy. You have elected a Government to lead and we will lead. We all have endured sacrifices and expenses and your Government has been using strategies such as the curfews to help to manage the movement of persons, and by doing so, reduce the opportunities for the virus to spread."
A new Curfew Order (No. 30) is now in place from September 2 to 16 from 1:01 p.m. to 4:59 a.m. daily for a period of 14 days.
Premier Fahie said the the curfew is important to restrict the movement of persons, to allow the health team the opportunity to further find people easier as they continue to aggressively trace and test from the existing confirmed cases.
The purpose of the curfew is to control, suppress or prevent the spread of COVID and for the protection of persons within the Territory.
If you or someone you know is experiencing a fever, cough, difficulty breathing, fatigue, body aches, headaches, loss of taste or smell, sore throat, vomiting or diarrea, call the Medical Hotline at 852-7650 and schedule a COVID-19 test today to know your status.
Photo: Premier and Minister of Finance, Honourable Andrew A. Fahie
Author