Department of Agriculture and Fisheries
Release Date:
Wednesday, 4 November 2015 - 11:30am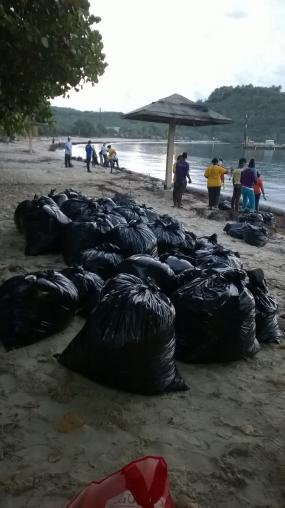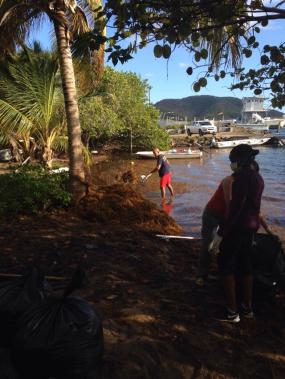 Over one thousand bags of Sargassum seaweed were collected from priority areas of the Territory's shoreline during last month's clean-up by members of the community.
Deputy Premier and Minister for Natural Resources and Labour, Dr. the Honourable Kedrick Pickering in a statement at the House of Assembly on November 2, reported that the Territory-wide clean-up held on October 17 to 19 was a success.
The Minister said, "Through the efforts of many community groups, individuals, and businesses who volunteered their time, labour and various resources, we were able to remove over 1,000 bags of Sargassum from priority areas of our shoreline."
Organisations including the Seventh-day Adventist Church, Rotary and Rotaract Clubs, the Filipino Society, Drake's Traders, Clarence Thomas Limited, Alphonso Warner Insurance, Trident Trust, Ms. Simone Monsanto and others participated in the clean-up campaign.
Honourable Pickering stated that the focus will continue to be on Sargassum removal by the use of hand tools and small machines which will result in the least impact to the Territory's beaches.
The Minister further encouraged the community to continue to assist with the clean-up efforts as "The Sargassum situation cannot be seen as just Government's responsibility but must be broadly viewed as a community effort."
He said the management of the Sargassum influx will require a continuous effort, tremendous man power and input of other resources.
Dr. Pickering added, "No Government, not this one, not those of our sister Caribbean islands or even that of our neighboring U.S. Virgin Islands has the internal resources do to it alone. The only way to rise to this challenge is through a true community response and partnership among the public, businesses and Government."
The Ministry of Natural Resources and Labour would like to thank the community for their time, resources and efforts made to clean-up the Sargassum seaweed. For more information about how members of the community and businesses can assist with the Sargassum clean-up efforts, contact the Conservations and Fisheries Department at 468-2700.
Author