Governor's Group
Office of the Deputy Governor
Department of Disaster Management
His Majesty's Customs
Release Date:
Wednesday, 19 October 2022 - 2:43pm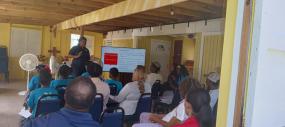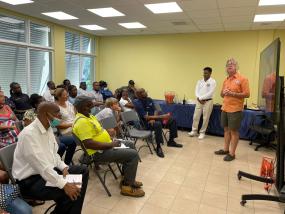 More than 80 persons from across the Sister Islands are now equipped with sail safe training skills following their participation in a series of workshops.
The training was conducted on the sister islands of Virgin Gorda, Jost Van Dyke, and Anegada through a collaborative effort by the Office of the Deputy Governor, in collaboration with Department of Disaster Management, H.M. Customs, Virgin Islands Search and Rescue (VISAR) and BVI Red Cross. Topics covered included safety on the seas, boating laws and regulations, a First Aid refresher and VHF radio training.
Sister Islands Coordinator, Ms. Sasha Flax stated that workshops provided useful knowledge and skills that that would enable persons to prepare for the upcoming tourist season.
"With the upcoming tourist season and so many persons employed in various areas of the marine industry, it was fitting to play a part in building the capacity of this sector. Participants were engaged, played a role in several demonstrations and were able to learn the basics when it comes to safety on the seas," Ms. Flax said.
"We look forward to building the capacity in more sectors as time progresses," she added.
Following the success of the workshop on the sister islands, there will be an upcoming session on Tortola on Friday, November 4, from 9:00 a.m. to 1:00 p.m. at the Edris O' Neal Conference Room at BVI Red Cross. Individuals can telephone 468-9721 or email sisterislandsoffice@gov.vg. to register.
The goal of the Sister Islands Programme is to promote and facilitate the execution of projects designed to bring about sustained improvement in the quantity, quality and delivery of Government services.
Author