Ministry of Natural Resources and Labour
Department of Labour and Workforce Development
Release Date:
Tuesday, 6 September 2016 - 4:39pm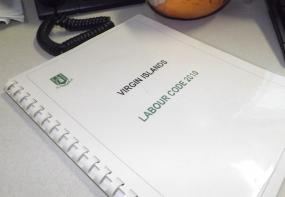 New work permit application fees for minimum wage earners are being calculated based on the new minimum wage of $6.00 per hour effective October 1, 2016.
This particular fee change will only affect employees who are being paid less than $6.00 per hour.
Labour Commissioner, Mrs. Janice Rymer said, "Work permits are typically issued for a year and due for renewals at the end of the year, so this change anticipates and pro-rates for the upcoming year. This particular fee change only affects employees from October 1. This is the beginning of the transition and another way to enforce and ensure persons are remunerated appropriately when the official wage change occurs."
She added that persons collecting new and renewal work permits will note the difference in their fees right away.
Deputy Premier and Minister for Natural Resources and Labour, Dr. the HonourableKedrick Pickering made the official announcement on the new minimum wage on July 4, 2016 via radio broadcast.
The Ministry of Natural Resources and Labour is responsible for ensuring that the supply of labour is commensurate with the level of development in all sectors of the economy under fair and appropriate working conditions, which preserve the health, safety and welfare of the employee.
Author