Ministry of Health & Social Development
Environmental Health
Release Date:
Wednesday, 13 July 2022 - 1:52pm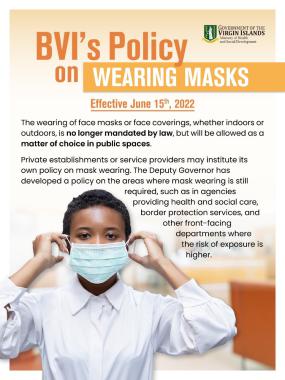 Acting Chief Medical Officer Dr. Ronald Georges is reminding the public to remain vigilant as new COVID-19 variants continue to emerge.
"As of July 8, there are 24 reported active cases of COVID-19 in the Territory, Dr. Georges said. He added, "After genetic testing, BA.2 and BA.4 Omicron variants have been found to be circulating within the Virgin Islands community while the BA 2.75 variant identified in India has not been identified in the Virgin Islands."
Dr. Georges explained that the World Health Organization (WHO) identifies B.1.1.529 as a variant of concern while BA.4, BA.5, and various sub-lineages of BA.2 remain under monitoring by the World Health Organization at this time. He said BA.4 and BA.5 are expected to replace existing variants in Europe and North America in the coming weeks to months.
According to the Acting Chief Medical Officer, the main concern with new variants in particular BA.4 and BA.5 is their ability to escape both natural and vaccine derived immunity and lead to high numbers of infections.
"The public is therefore urged to take appropriate precautions to prevent infection where necessary. This may include the wearing of facemasks, frequent hand hygiene, and general sanitation," Dr. Georges cautioned.
The Ministry of Health is advising persons who are ill or suspect that they may have COVID-19 or have been exposed to the disease to be tested to confirm their status. Persons who are positive for COVID-19 should self-isolate for a period of 7 days and end isolation if they test negative by rapid test or after 10 days with no test.
The Ministry of Health and Social Development is committed to protecting and promoting the health of the people of the Virgin Islands.
Author