Ministry of Health & Social Development
Environmental Health
Release Date:
Monday, 23 March 2015 - 5:00pm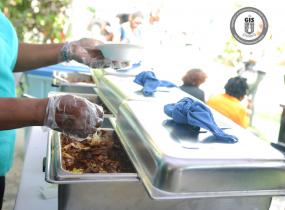 Restaurateurs and food handlers across the Territory are advised that certification sessions for new and renewing food handlers will be processed separately effective April 1.
Deputy Chief Environmental Health Officer, Mrs. Yolanda Penn said, "After reviewing our procedures, we came to the decision that the training needs of new food handlers and renewing food handlers are very different."
Mrs. Penn said presently, certification sessions for both new and renewing food handlers are processed together but that the processes will be separated with the introduction of the division's new identification system, with the aim of making the process more effective.
"The new system categorises new food handlers as beginners who need to learn general food safety, and categorises renewing food handlers as intermediates and more experienced who need to focus on hands-on learning, current events and outbreaks," she said.
According to Mrs. Penn, sessions for persons receiving new food handlers' certifications will only be held on the last Thursday of every month and applicants must pre-register before the Wednesday of that week.
New applicants are asked to bring the results from their stool analysis, work permit and/or picture identification, one recent passport-sized photograph and social security card when applying for food handlers' certificates.
Persons renewing their food handler's certificates are asked to bring their expired certificate, social security card, and work permit and/or picture identification. They will now have the option of attending the Thursday morning sessions any week during the month, except for the last Thursday which is now reserved for new food handlers. The sessions are held from 9:00 a.m. to 11:00 a.m. with registration from 8:30 to 9:00 a.m. at the Conservations and Fisheries Conference Room in the Quastisky Building near the roundabout.
For further information, kindly contact the Environmental Health Division at 468-5110.
The Environmental Health Division is committed to ensuring that all aspects of the environment with the potential to negatively impact health are managed efficiently to enable all persons in the BVI to attain and maintain optimal health and social well-being.
Author