Ministry of Health & Social Development
Release Date:
Tuesday, 1 September 2015 - 3:15pm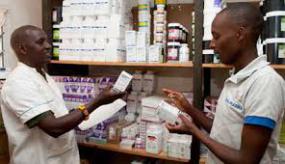 A workshop to build on the general principles of procurement, and inventory control in the medicine supply chain management in the Virgin Islands will be held next week.
The Ministry of Health and Social Development will host the Procurement and Supply Management Workshop on September 8 and 9. The event will be facilitated by Head of OECS Pharmaceutical Procurement Service, Mr. Francis Burnett, Chief of Drugs and Pharmaceutical Services for the Ministry of Health and Social Development, Mrs. Gracia Wheatley-Smith, and Pharmacist with the BVI Health Services Authority, Mr. Neil Hawke.
Mrs. Gracia Wheatley-Smith said the workshop will also build on quantification, stores management, distribution, and pharmacovigilance. She said with the implementation of the National Health Insurance, there would be a need to ensure the availability of essential medicines in the Territory at all times.
The workshop is also designed to enhance the National Pharmacovigilance programme. "We are hoping that following this workshop there will be a national acceptance and promotion of pharmacovigilance which will facilitate the reporting of adverse medicine reactions that will result in the safer use of medicines," Mrs. Wheatley Smith added.
Participants will identify an area in procurement and supply management in their workplaces and will design a method of improving that area on the last day of the workshop. There will also be a field visit where the participants will practice the evaluation of a storage area and thereby build capacity to improve their respective work areas.
Interested persons can contact the Office of the Chief of Drugs and Pharmaceuticals at 468-4398 for more information on participation.
The Ministry of Health and Social Development is committed to enabling effective use and management of medicines.
Author