Ministry of Health & Social Development
Office of Gender Affairs
Release Date:
Friday, 2 June 2017 - 4:27pm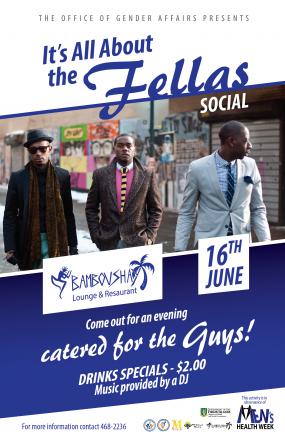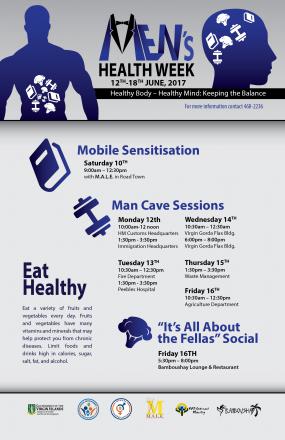 The Territory's men and boys are being encouraged to start the process of thinking about having healthy lifestyles and putting these thoughts into action.
Gender Affairs Officer, Ms. Mickesha Delpleshe said men and boys need to be made aware that in order to best maintain health, they must find a healthy way of asking for help.
Ms. Delpleshe said as part of activities to observe Men's Health Week from June 10 to the 16, the aim will be to encourage the Territory's males to pursue health maintenance and self-care without concern that doing so means they are weak or not "real men."
The week of activities will run in the continuance of Men's Month celebrations, and will be led by the Officer of Gender Affairs under the theme, 'Healthy Body, Healthy Mind: Keeping the Balance'.
Ms. Delpleshe said the Office of Gender Affairs is partnering with the Social Development Department and other local non-governmental agencies including M.A.L.E and RRD Outreach Ministry to host several sensitisation and educational sessions called 'Man Cave' throughout the Virgin Islands community.
The sessions will be held at male-dominated work places including Her Majesty's Customs and Immigration Departments, the Fire and Rescue Department, Waste Management Department, Peebles Hospital and Agriculture Department.
The week of activities will culminate on June 16 with the hosting of a social for men at the Bamboushay Restaurant and Lounge from 5:30 p.m. to 8:00 p.m.
Ms. Delpleshe said that since the week of activities is held just before Father's Day, the office has launched a month-long Daddy and Me challenge on social media.
"We want to continue to promote healthy fathers and family interactions and so the challenge will encourage men who are fathers and even godfathers to capture moments with their children, post them on Facebook or Instagram and let others show some appreciation for their efforts," she said
The challenge will be held from June 1 to 30 and the father with the most likes on their photograph will win a prize. Men are asked to submit their photographs using the #DaddyandMeBVI to enter the challenge.
The public, in particular men, are encouraged to take advantage of these sessions and participate in the challenge. Persons interested in attending or supporting any of the scheduled events are asked to contact the Office of Gender Affairs at 468-2236.
The Ministry of Health and Social Development aspires to provide a caring and integrated system of health and social services that facilitates human development and improves the quality of life in the Virgin Islands.
Author