Ministry of Natural Resources and Labour
National Parks Trust
Release Date:
Friday, 5 July 2019 - 3:47pm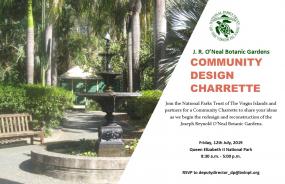 Residents of the Virgin Islands are invited to contribute to the redesign of the Joseph Reynold O'Neal Botanic Gardens at a charrette to be held at the Queen Elizabeth Park II on Friday July 12.
A charrette is a public meeting where citizens, designers and other key persons collaborate and plan or design a vision to be implemented.
The 2.87 acre garden was declared a National Park in 1979 in order to preserve the botanical collections of native and introduced species and for plant conservation, education, tourism and recreation.
Presentations will be made by officials from the National Parks Trust of the Virgin Islands (NPTVI) and their partners to highlight key items that must be considered in the design stages of the project.
These include the conservation goals and the role of the botanic gardens, climate change resilient construction, green/energy efficiency and solar power, eco-tourism and botanic garden trends and best practices.
Local and international partners for this event include the Ministry of Natural Resources, Labour and Immigration; the Family of the Late Joseph Reynold O'Neal; Town and Country Planning Department; the Recovery and Development Agency; OBMI – Marvin Flax and Team; TigerQi Architectural Firm – Lavina Liburd and team; Thor Downing and team of RDP; and local historians; New York Botanic Gardens, Denver Botanic Gardens, the National Herbarium in Sydney Australia, and KEW Gardens.
The meeting will be held from 8:30 a.m. to 5:30 p.m. following which, a final plan, design and budget will be presented to the public incorporating the public submissions and regional and international best practices for implementation.
Persons who are interested in sponsoring sections of the Botanic Station are asked to contact Deputy Director for Marketing and Business Development of NPTVI Ms. Diehdra Potter at deputydirector_dp@bvinpt.org.
Author