Ministry of Natural Resources, Labour and Immigration
Release Date:
Wednesday, 15 May 2019 - 2:15pm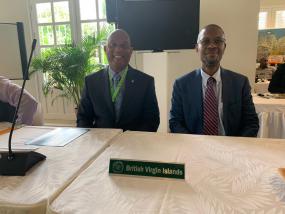 Minister for Natural Resources, Labour and Immigration Honourable Vincent Wheatley is attending the 6th Council of Ministers Environmental Sustainability (COMES-6) Ministerial Meeting in Fort De France, Martinique.
This is his first meeting of this magnitude since receiving his ministerial portfolio.
The Council of Ministers Environmental Sustainability Ministerial Meeting is organized by the Organization of Eastern Caribbean States (OECS) and will focus on issues relating to subjects like biodiversity, renewable energy, and ocean governance to name a few.
This year's theme is "Towards a Sustainable Society: Reinforcing Strategic and Durable Partnerships for Advancing Sustainable Development in the Eastern Caribbean".
The Government of the Virgin Islands understands the importance of the ministerial meeting and is keen on strengthening the relationship and partnership with the OECS in an effort to become more integrated in the region.
Honourable Wheatley said, "The COMES-6 Ministerial Meeting is very important to the advancement of the British Virgin Islands and all the members of the OECS. It gives us the opportunity to meet and discuss the issues emerging in our respective jurisdictions and allows us to act in unison to solve these issues and other areas of mutual interest".
This renewed bond will have the potential to assist in facilitating the development and implementation of strategically important projects in the BVI. The COMES-6 takes place at the heels of the successful completion of the OECS-European Union's Global Climate Change Alliance's iLand Resilience projects, which delivered $1.2 million in support of national and local level actions, such as the Cane Garden Bay Revetment project.
Minister Wheatley is exploring how the partnership between the OECS and the European Union can be further expanded and built upon to deliver on a future portfolio of projects and actions. Minister Wheatley is being accompanied by Deputy Secretary in the Ministry of Natural Resources Labour, Mr. Joseph Smith-Abbott.
Attached:
Photo 1: Minister for Natural Resources, Labour and Immigration Honourable Vincent Wheatley
Photo 2: Minister for Natural Resources, Labour and Immigration Honourable Vincent Wheatley and Deputy Secretary in the Ministry of Natural Resources and Labour Mr. Joseph Smith-Abbott
Author